So Far We've Covered...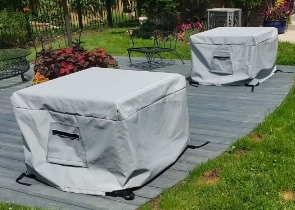 Cushion & Storage Chest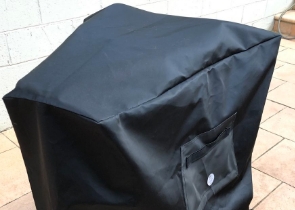 Custom Cover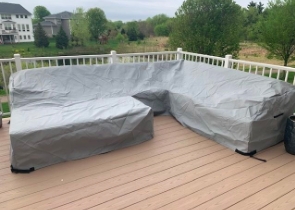 Sectional Covers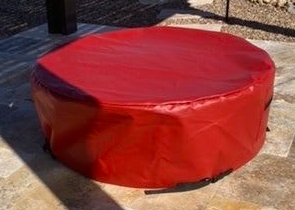 Fire Pit Covers_1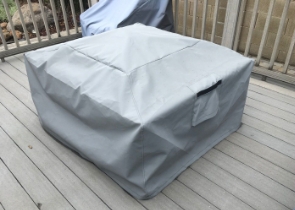 Fire Pit Covers_2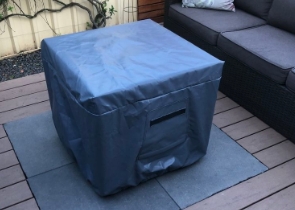 Fire Pit Covers_3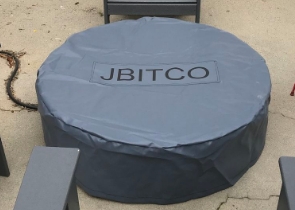 Fire Pit Covers_4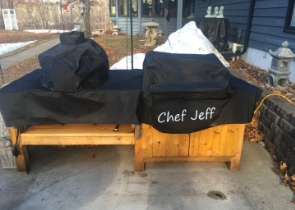 Grill Cover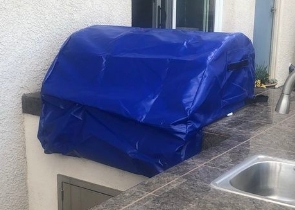 Grill Cover-1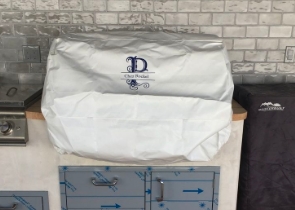 Grill Covers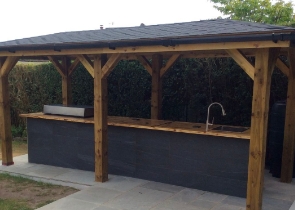 Outdoor Island Kitchen Cover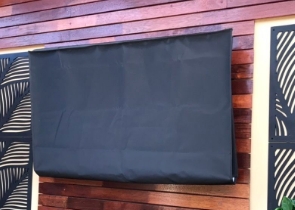 TV Cover
View more Customer Images »
Heavy-Duty Vinyl Tarpaulin are Water-Resistant and of Premium Quality
Severe, unfavourable weather can certainly derail your plans, but our UV-resistant tarps guarantee that your valuable equipment and other items left out in the open remain unharmed. These tarps keep your belongings tidy and ready to use while protecting them from any serious damage that harsh weather can cause.
For sturdiness and strength, our 12' x 30' tarps are top quality PVC vinyl-coated fabric. Their graphic is 18 ounces in weight. Rainfall, snow and water are kept at bay by these water-resistant fabrics, which keep your goods secure. The all weather tarpaulin vinyl coating safeguards them from UV rays and sun damage.
The heavy-duty fabric stands up to high winds and prevents your outdoor tarps from splitting or being blown away. The thick fabric can withstand tearing and abrasion. Whether used as a covering or stored, it won't become brittle or crack. Other fabrics stiffen up when exposed to cold weather, but our sturdy 18 Oz tarps stay flexible.
Our heavy-duty vinyl tarpaulin are available in four different colours. You can choose from Tarp Tuff Blue, Tarp Tuff Red, Tarp Tuff Grey and Tarp Tuff Black. The colour holds up well in direct sunlight without losing its vibrancy.
UV-Resistant Tarps Stay Secure with Robust Brass Grommets 
These outdoor tarps stay tied from the edges to provide coverage. Grommets come installed at a range of 24 inches around the perimeter of the corners. These grommets allow a smooth passage of your drawstring or rope. They keep the edges of the cover from wearing out or tearing.
The grommets for your canopy tarpaulin comprise tough brass metal that can withstand the rope's pressure. They improve the eyelets' durability and sturdiness.
Our Heavy-Duty Vinyl Tarpaulin Come with Double-Locked Seams
The UV-resistant tarps come tailored with tough double-thick seams for added strength and durability. They are suitable for any type of tough use because of their ultra-durability. Ordering from our website is simple and takes only a few clicks and a short amount of time. So, place your order now, and we'll deliver it to your door anywhere worldwide.

Didn't find what you were looking for? Need to find something else? Take a look at our other custom covers here.