So Far We've Covered...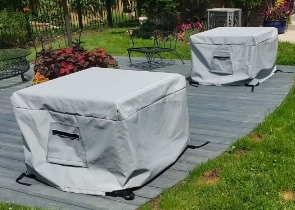 Cushion & Storage Chest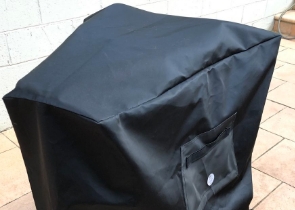 Custom Cover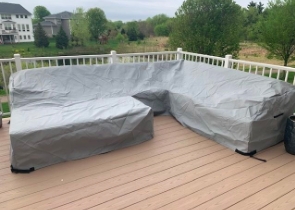 Sectional Covers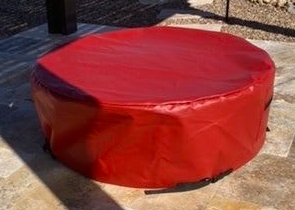 Fire Pit Covers_1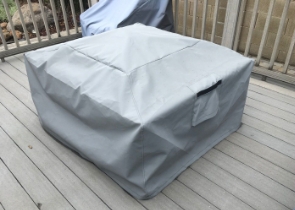 Fire Pit Covers_2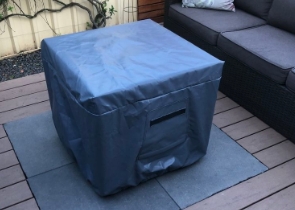 Fire Pit Covers_3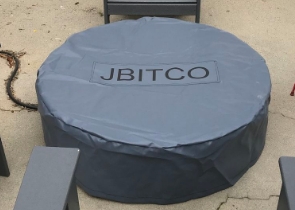 Fire Pit Covers_4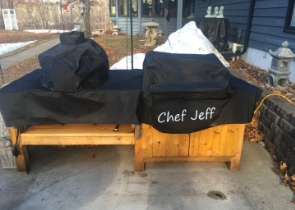 Grill Cover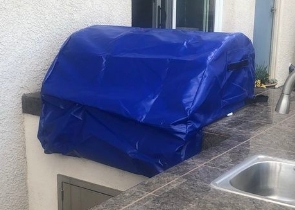 Grill Cover-1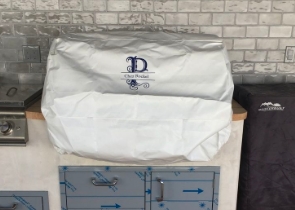 Grill Covers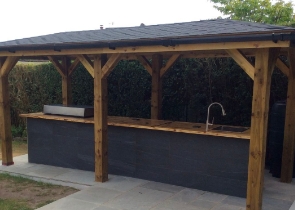 Outdoor Island Kitchen Cover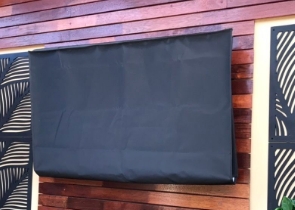 TV Cover
View more Customer Images »
Weber Genesis II E 335 Covers have Tie-Downs for A Snug Fit
Are you throwing a patio festivity with your friends and family? The recently installed BBQ will be a big hit during this summer's barbecue. However, until you have a proper covering option for the BBQ, inclement weather can quickly derail your plans. We make our gas grill covers of durable and sturdy material and are a good way to ensure you protect the grill from the elements.
UV-resistant BBQ covers have a sleek finish and are custom-made to accommodate your grill perfectly. We crafted our Weber Genesis grill covers with perfection to ensure your grill is dry throughout the year and to add a sense of beauty to your balcony décor.
Our custom-made covers are durable and stylish, featuring draw straps, elastic at the bottom, push clips, and a split zipper as tie-down options. We can also put grommets in 6", 12", or 24" intervals, under your preference. In addition, our outdoor grill covers have easy-to-use handles for quick cleaning and removal.
Weber Genesis II E 335 covers come in a variety of colours. You can choose from a wide range of colours, including light sand, blue, grey, beige, and white. The fade-resistant hues can easily last for a long period. Our custom covers guarantee to keep the good days going with your friends and family by extending the life of your barbecue.
Three High-Quality Fabrics for Our Gas Grill Cover
Our top-grade waterproof grill covers are available in three finely textured fabrics and we engineer them for a perfect fit. We construct them of durable fabric with 600 deniers melange/1000 denier and PVC-coated/PVB backing polyester components that are 100% waterproof and UV-resistant. The fabrics include Cover Max, Tuff, and Cover Fab. We design our highly durable fabrics to ensure the grill is safe at all times. They are abrasion and tear-resistant.
Cover Fab and Cover Max are effective in moderate conditions and feature a 3-year warranty. The third fabric, Cover Tuff, has a 5-year warranty. It's durable and protects your outdoor grill covers from harsh weather conditions.
Customise the Weber Genesis II E 335 Covers 
After you've decided on the fabric and size for the gas grill covers, add a touch of customisation with a few easy steps. We can easily print a family crest, logo or image, or any other creative writing for a personalised touch.
We deliver our Weber Genesis grill covers globally. Order now with just a few clicks!
Didn't find what you were looking for? Need to find something else? Take a look at our other custom covers here.