So Far We've Covered...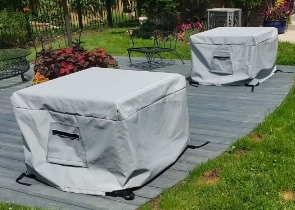 Cushion & Storage Chest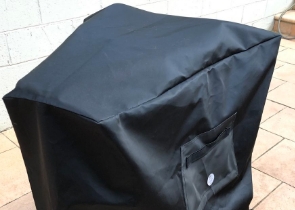 Custom Cover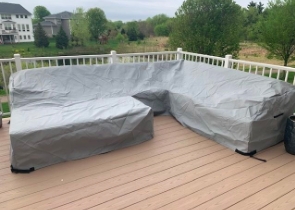 Sectional Covers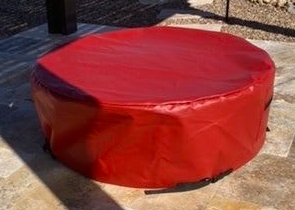 Fire Pit Covers_1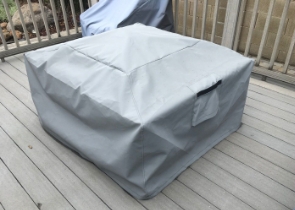 Fire Pit Covers_2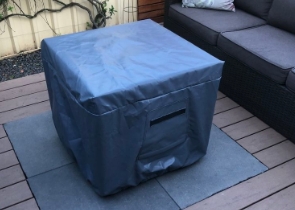 Fire Pit Covers_3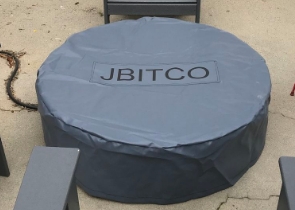 Fire Pit Covers_4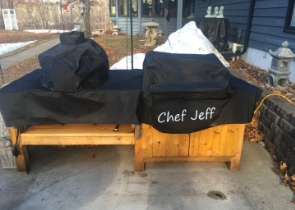 Grill Cover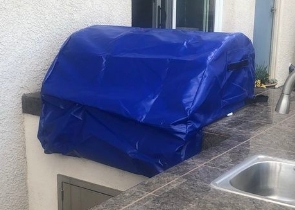 Grill Cover-1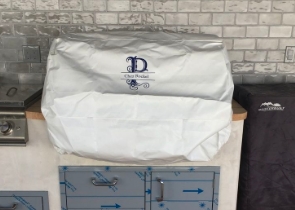 Grill Covers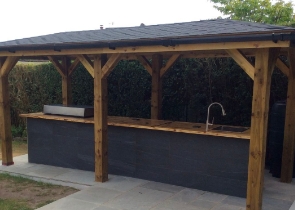 Outdoor Island Kitchen Cover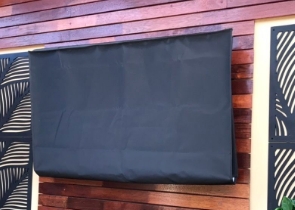 TV Cover
View more Customer Images »
Water-Resistant and UV-Protected Weber Smokey Mountain Cooker Covers 
Have you recently invested in a Weber grill for your outdoor cooking area? You can spend time with your loved ones while preparing your favourite dishes on this highly functional grill. But the grill exposed to sun, rain, snow or dust is making you apprehensive. Covers & All's charcoal grill covers are handy. Durability and aesthetics go hand in hand with the premium covers.
Our portable grill covers come in three distinct weather-resistant fabrics: Cover Tuff, Cover Max, and Cover Fab. Cover Tuff and Cover Max are 1000 denier, PVC-coated polyester and excellent choices for both mild and severe weather. The medium-weight Cover Max fabric, having 12 oz graphic weight, comes with a 3-year warranty. In contrast, the 18 oz high-quality Cover Tuff fabric comes with a warranty of 5 years.
Cover Fab, with its 12 oz graphic weight and 3-year warranty, is an excellent option for semi-shaded and shaded regions. This 600 denier melange polyester fabric with a PVB backing is light. Waterproof grill covers are available in a variety of styles and materials to meet your needs and the weather where you live.
Besides blue, coffee, beige, brown, and white, our Weber Smokey mountain cooker covers are available in a range of other colours as well. It's easy to find the perfect fabric for your outdoor space because we offer a variety of colour options.
Optional Grommets and Tie-Downs for Charcoal Grill Covers 
You can choose from a wide range of grommets and tie-downs for our portable grill covers. For an accurate and sleek fitting for your 14" Weber grill, these covers have draw straps, push clips, elastic, and a zipper. Covers can have push clips and elastic together for extra protection.
Use our measuring tool and follow the instructions to provide precise dimensions of the grill for snug-fit waterproof grill covers. Although, the height measurement will not change. Covers will have 1 to 2-in margins for easy pulling in and out. 
Customisable Weber Smokey Mountain Cooker Covers for Personal Touch
Charcoal grill covers with custom logos or innovative text will have a more appealing appearance. Our online customisation tool allows you to include these images, logos, or text. It only takes a few minutes to safeguard your Weber grill. Order your Weber grill covers now to get them to you as soon as possible!
Didn't find what you were looking for? Need to find something else? Take a look at our other custom covers here.