So Far We've Covered...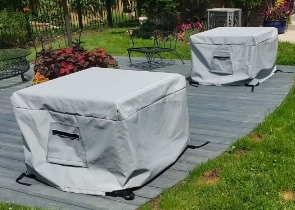 Cushion & Storage Chest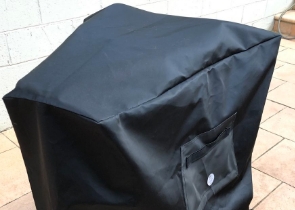 Custom Cover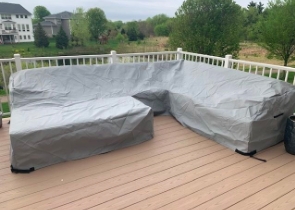 Sectional Covers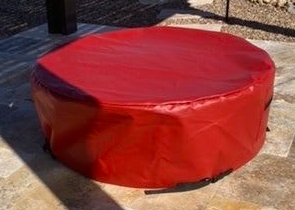 Fire Pit Covers_1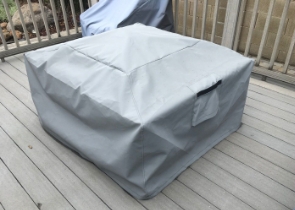 Fire Pit Covers_2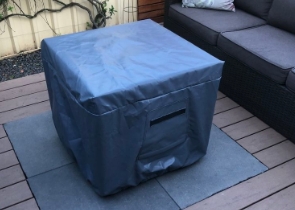 Fire Pit Covers_3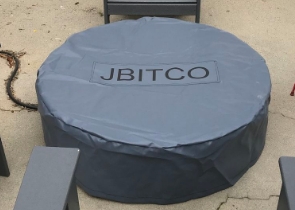 Fire Pit Covers_4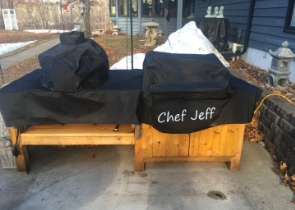 Grill Cover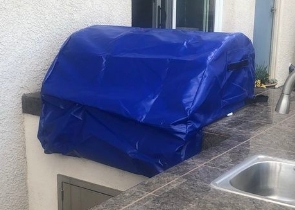 Grill Cover-1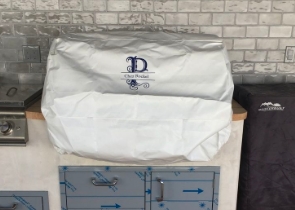 Grill Covers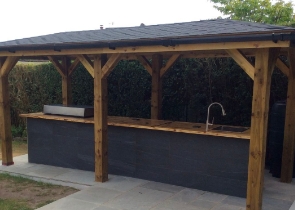 Outdoor Island Kitchen Cover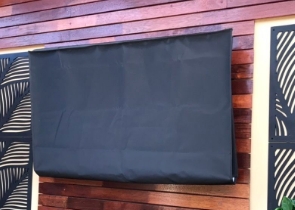 TV Cover
View more Customer Images »
Custom Chiminea Covers Made of Waterproof, UV & Tear-Resistant Fabric
There's no denying how the kindling warmth of chiminea can add a whimsical touch to your porches and patios. Be it your party, a formal gathering, or a fun family time, chimineas make outdoor gatherings more fun by making the surroundings warm and cosy. However, rain, snow, or storm can hamper the chiminea from working smoothly. To ensure the unhindered functionality of chimineas, we at Covers & All offer custom-made, highly durable waterproof chiminea covers that keep the chimineas protected from moisture, sun exposure, mildew, and mold.
Our outdoor chiminea covers serve as a shield against all weather elements. Their waterproof coating does not let rainwater or moisture seep into your chiminea. Tailor-made to perfection, our outdoor chiminea covers won't let any outdoor elements hamper the chiminea. So you can enjoy the rainy season without worrying about your valuable assets.
Made of 100% polyester, backed with PVC/PVB coating, our outdoor chiminea covers serve as a UV inhibitor. Our covers are highly durable and can combat tears, abrasion, and the damaging effects of UV rays without getting deteriorated in the long run. Depending on your requirements and local weather conditions, you can choose any fabric type: Cover Max, Cover Fab, and Cover Tuff. Cover Max is 1000 Denier PVC-coated polyester that is ideal for moderate weather. It gives you a choice of six colours to choose from. Cover Fab is 600 Denier PVB melange backing polyester fabric that is ideal for shaded or semi-shaded areas. This is available in two colours. Cover Tuff fabric is 1000 Denier PVC coated and heavy-duty. It can withstand extreme weather conditions and feels like vinyl. These chiminea covers come with a warranty of up to 3 or 5 years, depending on the fabric you choose.
Our robust garden chiminea covers are a blend of strength and beauty. Our covers are available in custom sizes. You can share the edge-to-edge measurement of your chiminea to receive the bespoke garden chiminea covers. With our online measurement tool, you can easily get the custom-made covers of your choice. An extra 1"-2" leeway on the width and depth is also on offer for an easy pull-in and pull-out of the covers.
Our Waterproof Chiminea Covers are Available with Multiple Tie-Downs and Grommets
Installing and securing the covers proves to be a hassle, but not with our garden chiminea covers for they are equipped with robust tie-downs and grommets. We offer multiple tie-downs such as drawstrings, elastic at the bottom, push clip to secure legs, and split zipper. You can even choose the covers with no grommets and customise the covers accordingly.
For fool-proof security, our garden chiminea covers are provided with grommets to conveniently secure the covers in place. The top-quality brass grommets are rustproof which further adds to the durability. Available in the spacing of 6", 12", and 24", these grommets ensure smooth functioning of the tie-downs, keeping the heavy-duty chiminea cover precisely in place.
Reflect Your Unique Style by Personalising Outdoor Chiminea Covers
Enhance the aesthetic value of your porches while ensuring the all-around protection of your chiminea. Get your outdoor chiminea covers personalised with the creative logo, text, image, or quote of your choice. Avail personalisation service at Covers & All to get the exclusive covers made just for you. Simply add your specifications and place an order now to have your beautiful waterproof chiminea cover delivered to your doorstep.
Didn't find what you were looking for? Need to find something else? Take a look at our other custom covers here.