So Far We've Covered...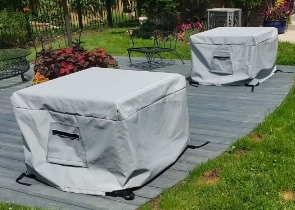 Cushion & Storage Chest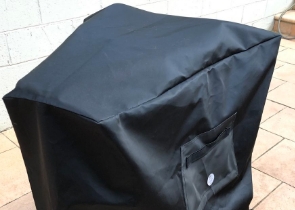 Custom Cover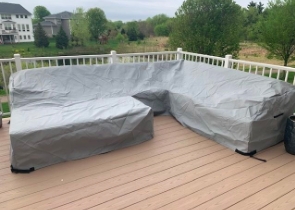 Sectional Covers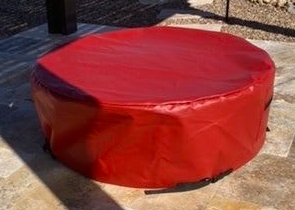 Fire Pit Covers_1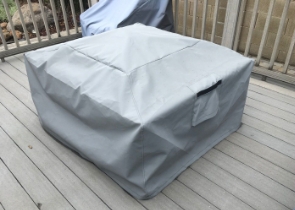 Fire Pit Covers_2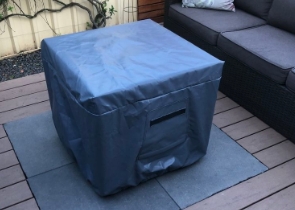 Fire Pit Covers_3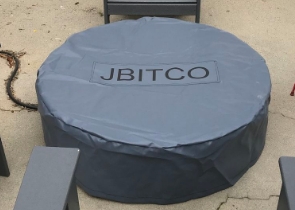 Fire Pit Covers_4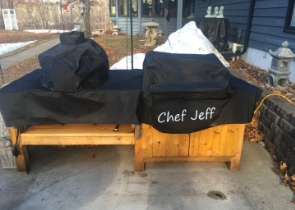 Grill Cover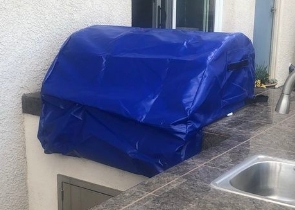 Grill Cover-1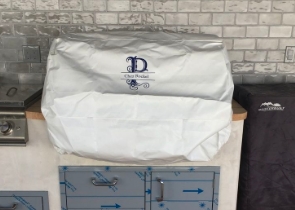 Grill Covers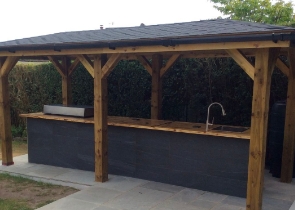 Outdoor Island Kitchen Cover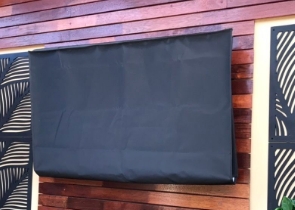 TV Cover
View more Customer Images »
Our Antique Chiminea Covers are Made of Waterproof and UV-Resistant Material
Nothing defines a warm cosy day better than lounging around the kindled antique chiminea on a chilly winter evening. Since antique chiminea is prone to damage to outside elements and harsh weather, there's a need to protect it for future use. Covers & All offers the best coverage solutions to keep your outdoor chiminea clean, dry, and functional all season-round.
Made of robust waterproof and UV resistant material, our garden chiminea covers are the right choice for the outdoor chiminea. Coated with PVC/PVB, the fabric does not fade despite long exposure to the sun, which further help retain the colours for a long period of time. The water-resistant covers do not allow any water droplets to seep onto the surface of the chiminea and help keep the surface corrosion and rust-free.
The heavy-duty fabric makes our chiminea covers tear and abrasion-resistant. The covers do not split or tear during routine handling and also withstand the strong winds without becoming unravelled. The covers do not get frayed even if in contact with sharp edges.
The metal chiminea covers do not become brittle or stiff on cold mornings and retain their flexibility. It is a pleasant experience to find the covers soft and supple even during near-zero temperatures.
Easy to Customise Antique Chiminea Covers
Finding the perfect chiminea covers is a hassle for there are multiple factors such as fabric, precise fit, and tie-down options affecting your choice. Therefore, Covers & All offers an exclusive customisation service to provide you with the garden chiminea covers that suit your specific needs. Just fill in the measurements (in inches) on the space provided on our website, choose a fabric and colour that you like and we will customise the covers exclusively for you.
There are three fabric options: Cover Max, Cover Fab, and Cover Tuff to choose from. Cover Max is 1000 Denier PVC-coated polyester that is ideal for moderate weather. It is seamless up to 9.5 ft and gives you a choice of six colours to choose from. Cover Fab is 600 Denier PVB melange backing polyester fabric that is ideal for shaded or semi-shaded areas. This is available in two colours. Cover Tuff fabric is 1000 Denier PVC coated and heavy-duty. It can withstand extreme weather conditions and feels like vinyl. It also provides you with five colour variations to select the one you want. The fabrics weigh in the medium range and can be handled alone.
To ensure a snug fit for your outdoor chiminea, our garden chiminea covers are equipped with multiple tie-down options. From drawstrings to split zippers, push clips, and elastics, you can choose any of the attachments for additional security. These tie-down options not only help secure your covers in all-weather conditions from windy to rainy, but it also aids in easy placement and removal of covers.
Personalise Outdoor Chiminea Covers to Add a Unique Flair
Turn your covers into statement pieces by adding a touch of personalisation. Now, you can conveniently personalise the chiminea covers with the name, logo, text, image of your choice to reflect your unique style. Simply upload the image, text, name, witty message, or quote on our website and choose the colour of the text and font of your preference. We will resize the monogram for it to aesthetically fit your waterproof chiminea covers. So, order now! We will deliver your personalised custom-made covers to your doorstep.
Didn't find what you were looking for? Need to find something else? Take a look at our other custom covers here.