So Far We've Covered...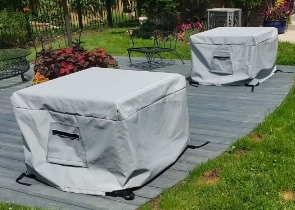 Cushion & Storage Chest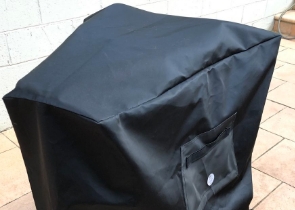 Custom Cover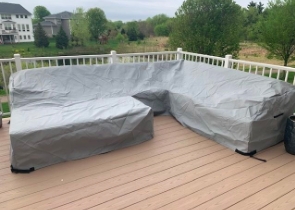 Sectional Covers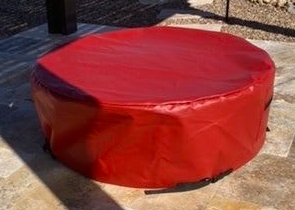 Fire Pit Covers_1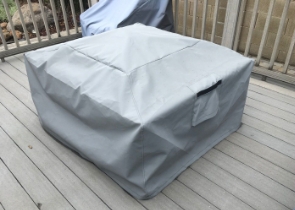 Fire Pit Covers_2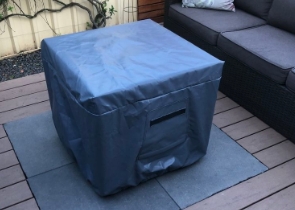 Fire Pit Covers_3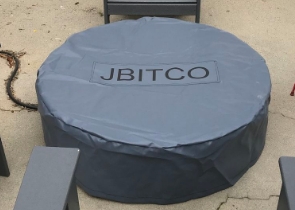 Fire Pit Covers_4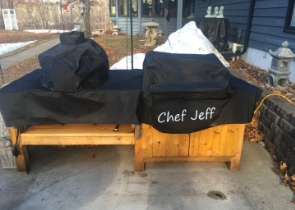 Grill Cover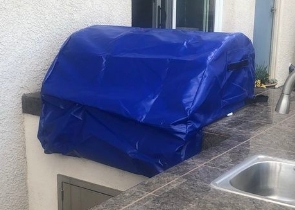 Grill Cover-1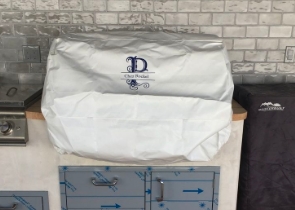 Grill Covers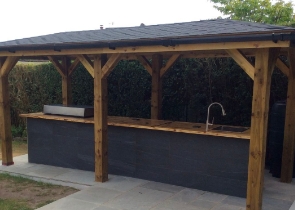 Outdoor Island Kitchen Cover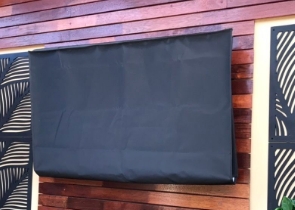 TV Cover
View more Customer Images »
High-Strength Mesh Tarps are UV Protected & Long Lasting
Do you want to keep your personal information safe from watchful eyes? Your chain-link fence can keep out intruders but what about curious onlookers? Covers & All can provide you with excellent heavy-duty tarpaulins for the fences and other spaces requiring shade or screen. They can cover your patio, pool, nursery, farm-produce, farm, construction sites, and other areas needing shade, defence, and secrecy.
Outdoor tarpaulins are an excellent option for providing shade from the scorching sun while allowing air circulation. Even though they block a lot of the sun's rays, the mesh material allows air to pass through. It offers a cool and pleasant atmosphere under its protection. The UV-resistant property does not let the black colour of the tarps fade on sun exposure.
Weighing only 6 Oz., our 12' X 15' tarps are perfect for everyday use because of their low graphic weight. They are easy to fold and stretch, making them effortless to use. Rainwater can also pass through it because our covers are water permeable. By protecting delicate plants, our mesh tarpaulins prevent rainwater and snow from accumulating on them.
The high-strength mesh tarps features high-grade materials, making them sturdy, flexible, and long-lasting. Winter and summer are no problem for them because they don't become brittle or stiff. Another benefit of our tarps is that they do not let dry leaves and other debris get inside. Because of this feature, they work well in courtyards and fences.
Heavy-Duty Tarpaulins with Grommets & Double-Thick Seams
Our outdoor tarpaulins have reinforced grommets every 24 inches along all four edges. These brass grommets are long-lasting, sturdy, and ideal for running any type of cord or rope through. Using these to secure the mesh tarpaulins will ensure that they remain in place.
Our 12' x 15' tarps have double-locked seams at all of their edges. With grommets installed to these seams, tarps offer extra support and prevent the rivets from tearing or fraying when tying the tarps.
Warranty on High-Strength Mesh Tarps 
Mesh tarpaulins come with a warranty of 2 years. Covers & All manufactures heavy-duty tarpaulins for long-term use and provide comprehensive quality affirmation. It doesn't matter if you need to cover or screen something; we've got you covered with our High-Strength Mesh Tarpaulin, 6Oz 12' x 15'. 
Didn't find what you were looking for? Need to find something else? Take a look at our other custom covers here.