So Far We've Covered...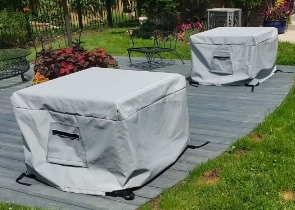 Cushion & Storage Chest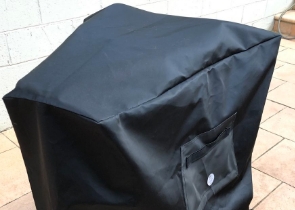 Custom Cover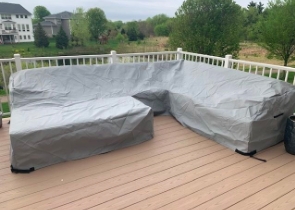 Sectional Covers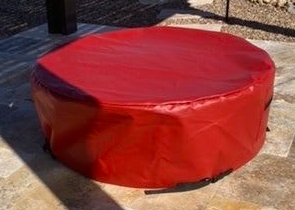 Fire Pit Covers_1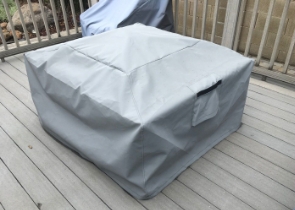 Fire Pit Covers_2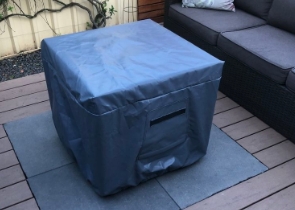 Fire Pit Covers_3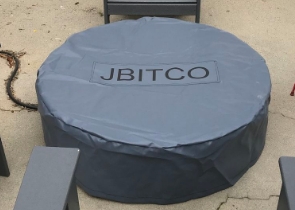 Fire Pit Covers_4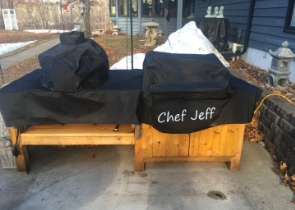 Grill Cover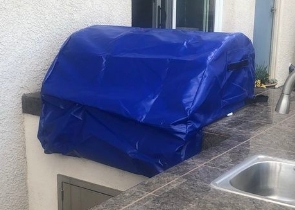 Grill Cover-1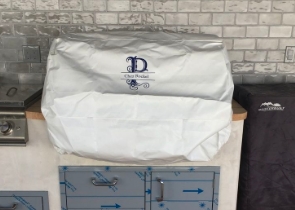 Grill Covers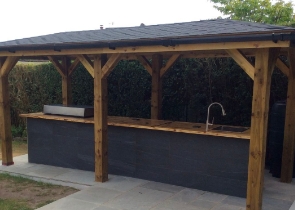 Outdoor Island Kitchen Cover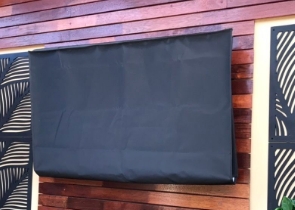 TV Cover
View more Customer Images »
Weber Jumbo Joe Grill Covers are UV and Waterproof
The stars of your barbeque are your famed burgers. Allowing mildew or corrosion to destroy your Weber Jumbo Joe and damper your mood is a bad idea. Moisture in any form is the enemy, but with our 18-inch grill Covers, you can keep it at bay. Our premium grill covers will keep your charcoal grill looking great all year. As a result, weather destruction, dirt, or debris will not prevent you from having a barbeque whenever you want it.
Covers & All offers three fabric alternatives that are 100% watertight and wind-resistant. The durable Cover Max, Cover Tuff, and Cover Rite fabrics are available for our elegant and effective waterproof grill covers.
All of our textiles feature heavy-duty 1000/600 denier fabrics, backed with sturdy polyester textiles. These weather-resistant PVC-coated textiles withstand heavy rainfall, ice, and sleet, keeping your grill dry. Because our high-tensile strength textiles are abrasion and tear-resistant, our polyester grill covers will keep your barbecue protected for a long time.
Our recommendation for safeguarding your Weber Jumbo Joe from moderate weather is a cover made of the durable Cover Max fabric. It comes in six different colours, it's UV-resistant and feels like vinyl. Our Cover Fab fabric, which is long-lasting and tear-and-abrasion resistant, can also protect grills that stay in shadowed or semi-shaded settings. This fabric comes in two colours: light sand and light grey. These two fabrics have a 3-year warranty and weigh 12 oz. For protection against harsh weather, our 18 oz Cover Tuff is the champion. This fabric comes in five UV-resistant hues and has a warranty of 5-years.
Our 18-Inch Grill Covers come with Tie-Downs for Additional Protection
Nothing surpasses our tie-down choices when it comes to offering comprehensive protection for your barbecue. All of our waterproof grill covers come with drawstrings as usual, but feel free to check our various alternatives to find one that meets your needs. We manufacture drawstrings with locks or extra-strong elastic for a secure fit. While push hooks are good for securing the legs, you may also use a mix of elastic at the base and push clips. Grommets made of rust-free brass are another alternative for extra security. We position these covers at a range of 6", 12", or 24" for easy put on and take off.
These polyester grill covers are custom-tailored to precise proportions to ensure a flawless fit. To ensure seamless removal and covering, an extra 1-2 in. leeway is a clever addition. Our grill covers are form-fitting, fashionable, and willing to take on Mother Nature.
Add Some Flair to your Weber Jumbo Joe Grill Covers by personalising Them
Impress your visitors with a symbol, phrase, or graphics on your 18-inch grill covers, which you can customise in any UV-resistant colour and typeface.
Allowing rainfall, ice, sleet, dirt, allergens, garbage, or bird droppings to ruin your celebration is a no-no. With our attractive, form-fitting grill covers, you can keep them at bay. Buy yours right now from anywhere in the world, and we'll deliver it to your front door.
Didn't find what you were looking for? Need to find something else? Take a look at our other custom covers here