So Far We've Covered...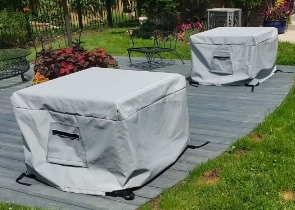 Cushion & Storage Chest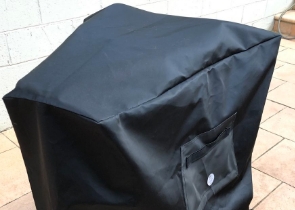 Custom Cover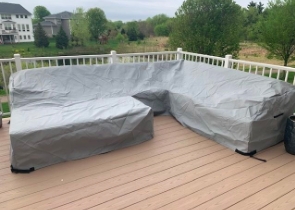 Sectional Covers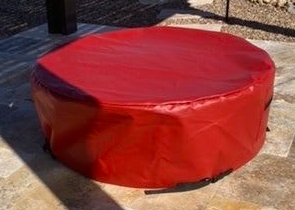 Fire Pit Covers_1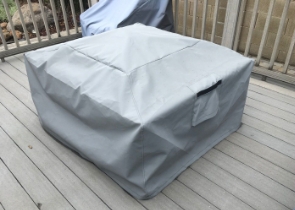 Fire Pit Covers_2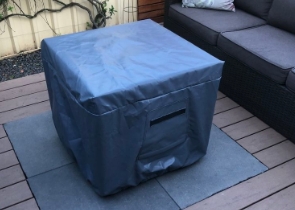 Fire Pit Covers_3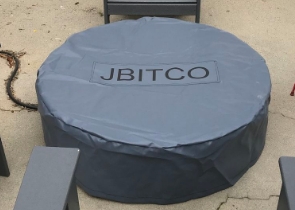 Fire Pit Covers_4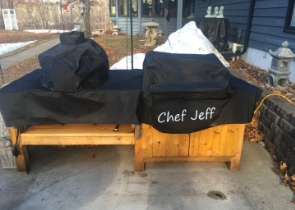 Grill Cover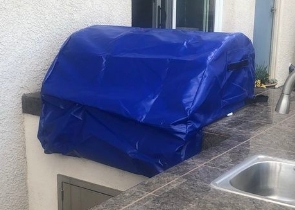 Grill Cover-1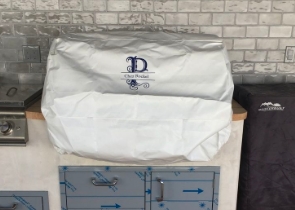 Grill Covers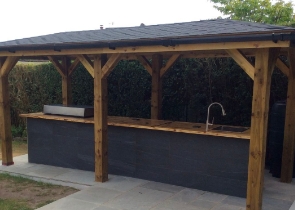 Outdoor Island Kitchen Cover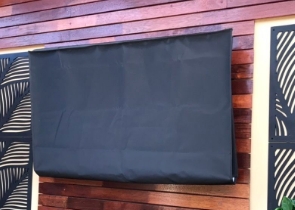 TV Cover
View more Customer Images »
Robust and Long Lasting Fabric for Weber Spirit S-315 Covers
Want your grill to stay dry, secure and corrosion-resistant for years? Our gas grill covers keep your Weber Spirit-S-315 grill safe. We built these grill covers to last, custom-fit to your grill, and safeguard it from snow, rain, dirt and dust. They last a long time and keep the grill looking brand new.
Our waterproof grill covers comprise high-quality fabrics that are both water and UV resistant. They don't fade and leave your grill tidy, dry, and shiny. The tough fabric does not tear or scratch easily, and the double stitching adds increased toughness. These portable covers have handles that make removing and replacing the cover on the grill a breeze.
We made three different outdoor grill covers to suit various weather because distinct climates have distinct requirements. Cover Fab has a PVB backing and comprises 600 denier melange polyester. It's small (12 ounces) and comes in two colours. Suitably perfect for shady and partially shady areas. It comes with a 3-year warranty and has a fabric-like texture.
Both Cover Max and Cover Tuff comprise PVC-coated polyester with a 1000 denier. At 12 oz. and 18 oz., respectively, these gas grill covers have a moderate graphic weight. Cover Tuff is ideal for extreme climates, while Cover Max is suitable for mild climates. Cover Max has six colour options and a 3-year warranty, while Cover Tuff has five colour options and a 5-year warranty for your Weber Spirit S-315 covers.
Our Gas Grill Covers Come with Four Different Tie-Down Choices 
You can choose from four tie-downs options to keep your waterproof grill covers tied down and safe. To keep the covers in place, install drawstrings or elastic to hems. There are also corrosion-resistant grommets at a length of 6"/12"/24" for the drawstring to operate properly. There's also a water-resistant push zipper that makes it simple to put on and take off the cover.
Customise your outdoor grill covers by printing your logo, monogram, or company name on it. We print with UV-resistant ink that won't fade in the sun. With our measuring tool, get the right size and fit, and we make covers to fit any size or shape. Personalise it by telling us the fabric type, size and colour you want, and we'll make it for you.
Weber Spirit S-315 Covers Have Well-Designed Vents
The covers include well-structured air vents that keep your grills anew, maintain air passage, and prevent condensation. They also stop mildew and mould from growing. Place the order for your gas grill covers today to ensure that your grills last a long time.
Didn't find what you were looking for? Need to find something else? Take a look at our other custom covers here.