So Far We've Covered...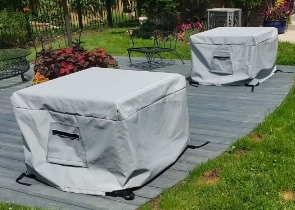 Cushion & Storage Chest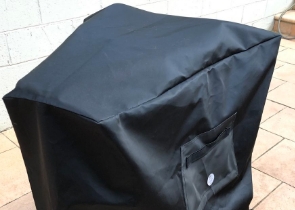 Custom Cover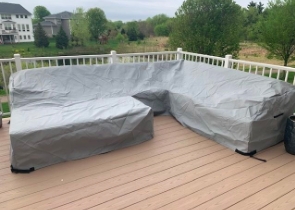 Sectional Covers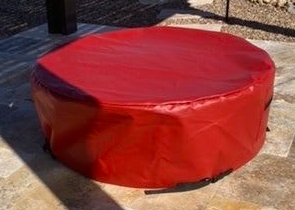 Fire Pit Covers_1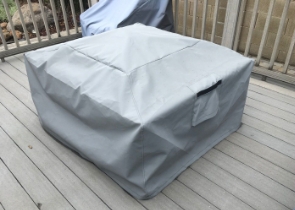 Fire Pit Covers_2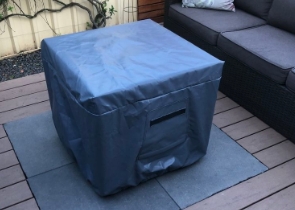 Fire Pit Covers_3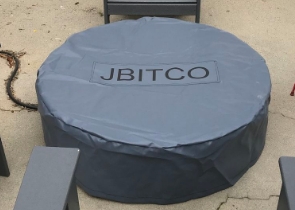 Fire Pit Covers_4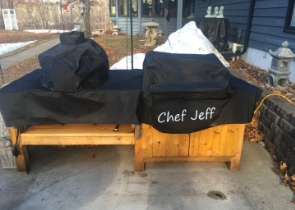 Grill Cover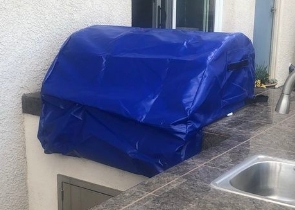 Grill Cover-1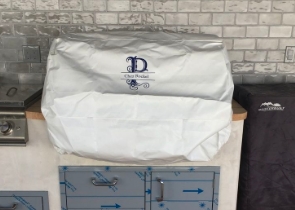 Grill Covers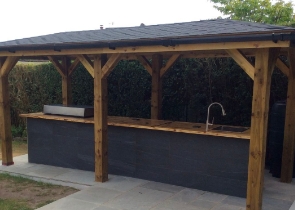 Outdoor Island Kitchen Cover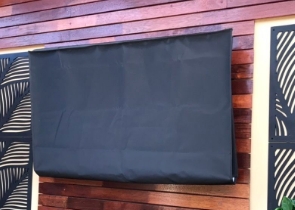 TV Cover
View more Customer Images »
Our Weber Original Kettle Grill Cover Protects All-Year Long
Keep the romance of charcoal grill barbecues alive at any time of the year by covering them when not in use. If your grill stays exposed to the outdoor elements, it can get dirty or lose its taste. Covers & All has a cover for your premium charcoal grill that will help you to keep your grill in good shape.
There are three different fabrics to choose from. Cover Tuff and Cover Max waterproof grill covers feature 1000 yard polyester fabrics with PVC coatings, while Cover Fab is a 600 denier polyamide melange fabric with PVB backing. Between them, the covers can withstand mild to harsh weather. There are a lot of fabrics to choose from to make sure your grill is well-protected.
All of our fabrics are 100% waterproof and wind-resistant, so your grill will be safe in any weather condition. These portable grill covers and grill will look newer for long because our long-lasting, durable fabrics are resistant to the sun's rays. Cover Max and Cover Fab offer a three-year warranty. If you buy Cover Tuff, you will get a five-year warranty.
Our Weber Original kettle grill covers keep your charcoal grill rust and mildew-free. To do this, we make covers that fit your grill perfectly. 1 to 2 inches of leeway is available to ensure no tugging or pulling when taking off or putting on the grill cover.
Get Multiple Charcoal Grill Cover Tie-downs & Color Options
Strong winds can sometimes impede well-fitted waterproof grill covers. Covers & All offers tie-downs and grommets that can help in such situations. Every cover has the same drawstring option. In addition, extra-strong elastic at the bottom, push clips, or extra-strong elastic at the base with push clips are available to keep the covers in place. Elastic at the base with push clips are also available for the best hold. Grommets made of brass are another option that can be effective.
The portable grill covers come in many different colours. Long-lasting Cover Max comes in six different colours and is best for protecting your grill from mild weather, such as rain or snow. A lightweight fabric called Cover Fab is suitable for dark and partly dark areas. It comes in two colours. Choose from five different colours of our Cover Tuff that can withstand bad weather, like snow and rain. Choose a colour that goes well with your patio decor and makes the space more lively.
Personalise Your Weber Original Kettle Grill Cover by Adding Logos, Texts, or Pictures
Add a logo, text, or picture to the cover of your grill. You can pick a different font to match the grill cover and let us know when you order. Then, if you want, we can put it on your charcoal grill covers.
With the help of our premium cover, your new grill will stay in top shape for years to come. We deliver all over the world right to your door step.
Didn't find what you were looking for? Need to find something else? Take a look at our other custom covers here.