So Far We've Covered...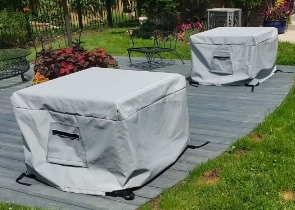 Cushion & Storage Chest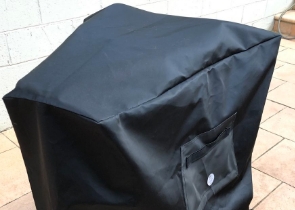 Custom Cover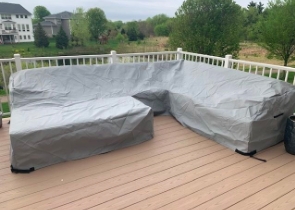 Sectional Covers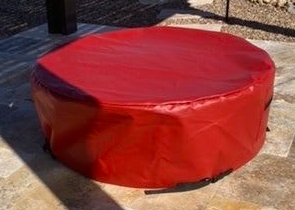 Fire Pit Covers_1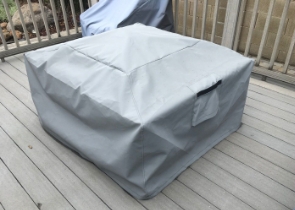 Fire Pit Covers_2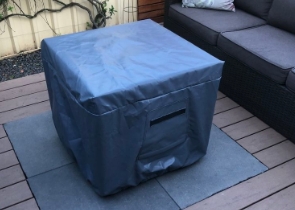 Fire Pit Covers_3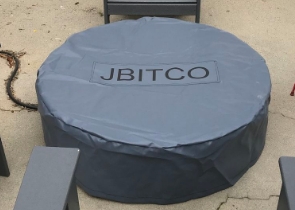 Fire Pit Covers_4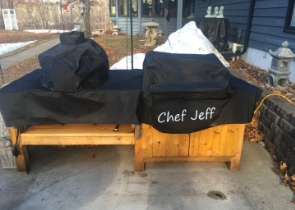 Grill Cover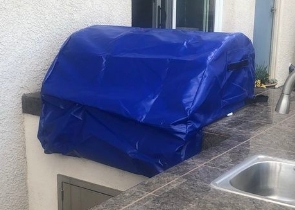 Grill Cover-1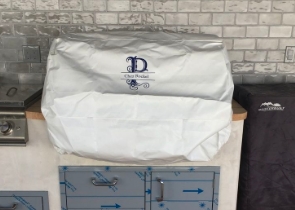 Grill Covers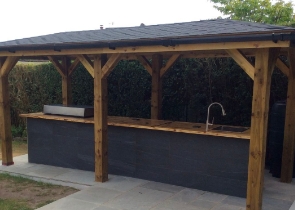 Outdoor Island Kitchen Cover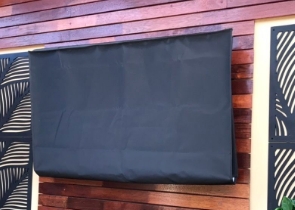 TV Cover
View more Customer Images »
Experience Superior Sun Defence with Our Custom Triangle Sun Shade Sail for Europe
Basking in Europe's radiant sun and the gentle touch of its refreshing breezes often draws us outside. Yet, occasionally, the sun's intensity or an unexpected rain shower can force a retreat. For uninterrupted enjoyment of European terraces and gardens, we introduce our Custom Sun Shade Sail in a multifaceted triangle shape, designed to provide a relaxed haven, come rain or shine.
Masterfully created from Shade Lite, a high-quality 400 Denier breathable knitted fabric, our triangle shade sail is designed to provide a cool sanctuary during the peak of Europe's summer heat. At a mere 142 grams (5 Oz.), it ensures a steady breeze for optimal comfort, while blocking 85% of the sun's intense rays and preserving a crystal-clear outdoor view. In addition, It comes with a 2-years of warranty. Seeking a more resilient shading solution? The Shade Elite is your answer. With a robust 340 GSM, it delivers up to 90% shade and UV protection, all while remaining impressively lightweight at approximately 283 grams (10 Oz.). As an eco-conscious choice that is 100% recyclable and devoid of harmful substances, it is backed by a solid 5-year warranty, demonstrating our commitment to sustainable opulence.
Dive into the pinnacle of outdoor luxury with our Shade Premium Fabric. Blending 30% Polyester and 70% PVC, this fabric ensures a luxurious feel, fire retardant properties, and resistance to rot, providing up to 90% shade. With a weight of roughly 312 grams (11 Oz.) and the security of a 5-year warranty, it emerges as the top-tier choice for sophisticated outdoor living across European markets.
Additionally, the diverse and fade-resistant shades of our UV resistant triangle shade sail add a lasting elegance to any European patio or garden. Its resilience is showcased by its durable material, built to resist wear and tear and stand firm against challenges like gusty European winds or debris.
Revitalise your patio or garden with our triangle sun shade, ideal for European social gatherings or tranquil moments. Personalise the shade sail with a colour palette that harmonises with European architectural aesthetics.
Relish Bespoke Outdoor Comfort with Our European Triangle Sun Shade Sails
Elevate your outdoor ambiance with the Custom Sun Shade Sail - Triangle from Covers & All. Exclusively designed to cater to European tastes, our shade sails blend regional aesthetic with functionality, befitting any European garden or outdoor setting. Decide between curved or straight sail edges, ensuring your Patio Shade mirrors Europe's architectural elegance. Given the variety in European spaces, our triangle shades are available in multiple sizes; simply relay your measurements and anticipate the best-in-class UV resistant triangle shade sail to be delivered.
Submit a photograph of the area you wish to shade, and we will craft Personalised triangle garden shade sails, bringing your vision to life. Gone are the days when unpredictable European weather interrupts your outdoor leisure. Secure your sun protection with triangle shade sails effortlessly, wherever you are in Europe. We vouch for the durability and contemporary European design with each triangle sun shade sail for deck.
Simple Assembly with Our Custom Triangle Sun Shade Sail Kit
Acknowledging the intricacies of installing outdoor sun shades in Europe, we've equipped our DIY kit with essential accessories to ease the process. Beyond the staple D rings, our kit offers turnbuckles (set of 3), snap hooks (set of 3), pad eye brackets (set of 3), and screws/wall plugs (set of 3), ensuring your Triangle Shade Sail or Patio Shade is anchored securely.
Seize the chance to experience our custom triangle sun shade for European patios. Catering to diverse European needs, we also present custom sun shade sail rectangle, custom sun shade sail square, and waterproof custom triangle shade canopy to stylishly shield your outdoor spaces.