So Far We've Covered...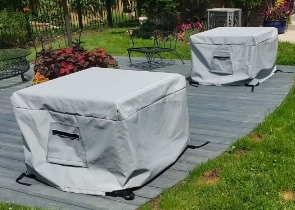 Cushion & Storage Chest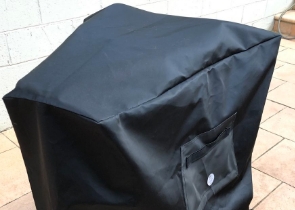 Custom Cover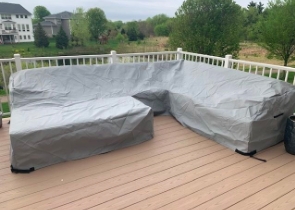 Sectional Covers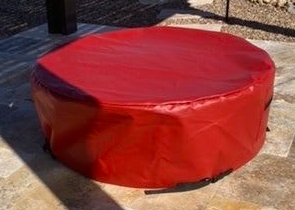 Fire Pit Covers_1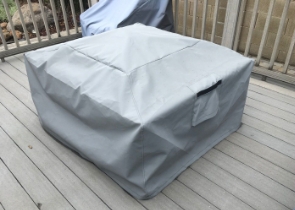 Fire Pit Covers_2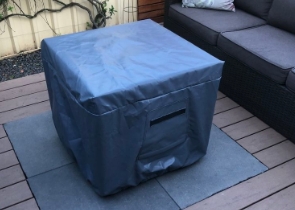 Fire Pit Covers_3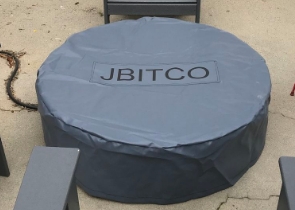 Fire Pit Covers_4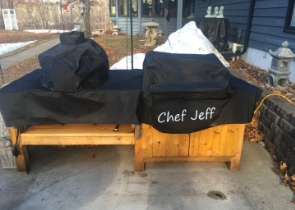 Grill Cover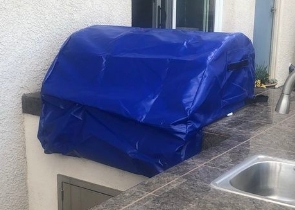 Grill Cover-1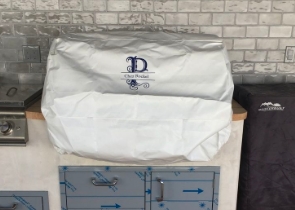 Grill Covers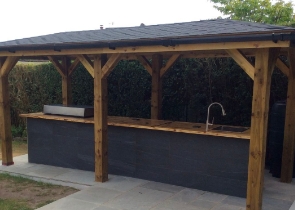 Outdoor Island Kitchen Cover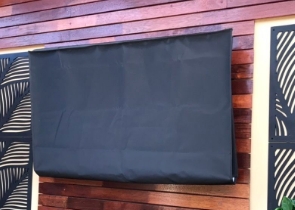 TV Cover
View more Customer Images »
Heavy Duty Log Splitter Covers Designed to Withstand Any Weather Condition
You have purchased a gas log splitter that guarantees to save you hours of work. It cuts all those logs quickly, saving you time and effort. Now it's up to you to keep it safe from the elements so that it stays new at all times. Your gas log splitter always stays ready to use if you keep it under Covers & All's well-fitting waterproof covers for log splitter. Our covers provide total protection against debris, dust, dry leaves, corrosion and bird droppings, as well as moisture, heavy rain, sleet, and snow.
These come impervious to water and UV-rays and can resist harsh weather without fading or allowing water to seep into your log splitter's machinery. The wood splitter covers can withstand extreme temperatures and heavy downpours while still looking brand new.
Our gas log splitter covers are abrasion and tear-resistant, making them tough and durable enough to resist harsh windy conditions and everyday use. With a graphic weight ranging from 12 to 18 ounces, they stay folded and unfolded without help. Even when the covers are open to jagged surfaces or sharp edges, you no longer have to worry about nicks or cuts.
With the heavy-duty log splitter covers being snow resistant, they can withstand near-zero temperatures without stiffening or turning brittle, as other covers do on typical winter mornings. It's a comfort to discover that they're soft, making them simple to handle.
Waterproof Covers for Log Splitter are Available in 3 Fabric Choices 
Three robust fabric alternatives are available for our wood splitter covers. The Cover Max and Cover Tuff fabrics comprise 1000 denier polyester with a PVC coating. While the former is best for mild weather, the latter comes prepared to deal with harsh weather. Our Cover Fab fabric comprises 600 denier PVB backing polyester and is ideal for shaded or partially shaded areas.
While Cover Max and Cover Fab both have a 3-year warranty, Cover Tuff has a 5-year warranty to guarantee that you get a product that lasts for a long time. Our gas log splitter covers come in a variety of colours, such as beige, blue, light grey, black, coffee, and more. Push zippers, drawstrings, split clips, and elastics at the hem are just a few of the tie-down alternatives available on our covers.
Customisable Heavy Duty Log Splitter Covers are Available 
We offer you the choice of customising your covers to give them a one-of-a-kind touch. Send us a logo, text, photo, or any other design, and we'll print it in UV-resistant ink on the waterproof covers for log splitter. You can also choose the font, colour, size, and location on the cover where you want it to appear.
Fill in the measurements (in inches) requested on our website, as well as details of the fabric and colour of your choice, and the cover come tailored to your specifications. Order now, and your customised custom log splitter cover get delivered right to your door.

Didn't find what you were looking for? Need to find something else? Take a look at our other custom covers here.