So Far We've Covered...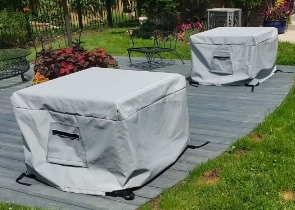 Cushion & Storage Chest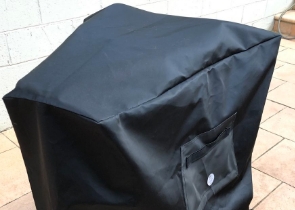 Custom Cover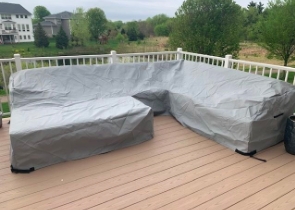 Sectional Covers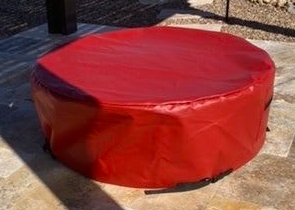 Fire Pit Covers_1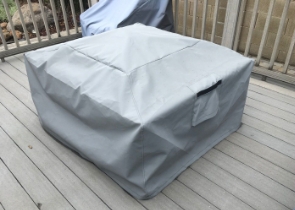 Fire Pit Covers_2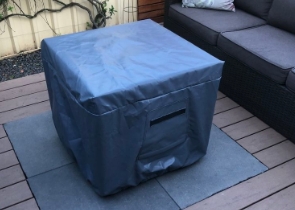 Fire Pit Covers_3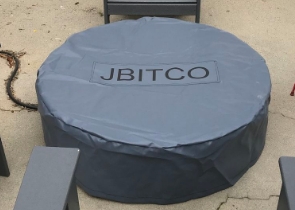 Fire Pit Covers_4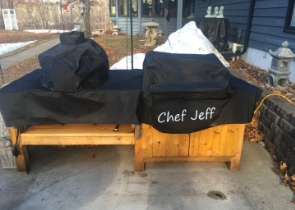 Grill Cover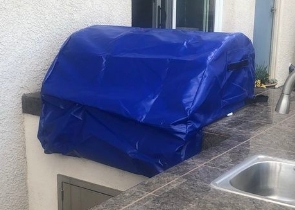 Grill Cover-1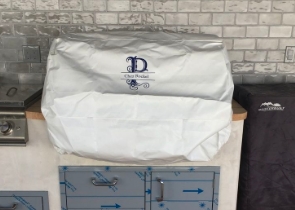 Grill Covers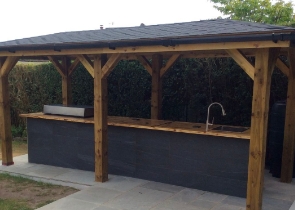 Outdoor Island Kitchen Cover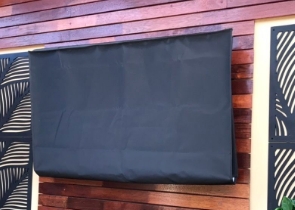 TV Cover
View more Customer Images »
32 Inch TV Covers are waterproof and durable
If sitting on your patio while watching your favourite Netflix show is your idea of fun, make sure your cherished television is safe from the weather. We offer you outside TV protectors with easy-to-remove handles to make removing and covering your TV simple. To provide complete protection, the covers feature a high tensile strength cloth that is easy to remove.
The patio TV covers comprise 100% waterproof fabric, which means they can endure rain, snow, or sleet. These features allow your TV to keep functioning properly for many years.
We make our water-resistant TV covers with UV-resistant fabrics for durability. The UV-coated covers protect against harmful UV radiation and can also withstand the environment.
These tear and abrasion-resistant 32-inch TV covers provide unrivalled protection. In addition, the anti-mould and mildew fabric keeps moisture out and extends the life of your TV.
Outside TV Protectors come in 3 Fabric Variations
Our water-resistant TV covers are custom-made to suit your TV perfectly and protect it from the elements. Crafted to offer protection against rip and abrasion, the covers are available in three fabric options: Cover Max, Cover Fab, and Cover Tuff.
These patio TV covers represent safety and excellence. Cover Max and Cover Fab come with a 3-year warranty while Cover Tuff comes with a 5-year warranty. They are also available in various colours. With their 12 oz - 1000D oxford eco-friendly polyester with a PVC coating construction, the covers withstand extreme weather. The medium-weight fabric feels like vinyl and is incredibly durable.
32- Inch TV Covers are Customisable
Our outside TV protectors not only provide complete protection but also ensure that your TV appears stylish even when covered. The covers offer a plethora of customisation choices. You can modify them with UV-resistant bright photos, logos, or text of your choice. Exclusively individualised to give the covers a sense of your personality.
The robust coverings come in a variety of colours and include several tie-down options. Draw straps, push clips, elastic, and zipper are some of the tie-down options available to keep your TV safe even when it gets windy. Get ready to press the buy button, and we'll deliver your new, water-resistant TV covers to your door.
It doesn't matter where you are; we make sure that we deliver it right to your doorstep. Place your order and stop worrying about your table chair set.
Didn't find what you were looking for? Need to find something else? Take a look at our other custom covers here.