So Far We've Covered...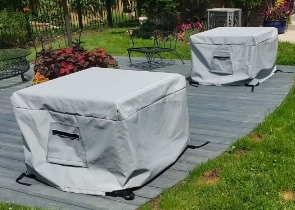 Cushion & Storage Chest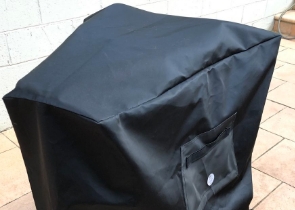 Custom Cover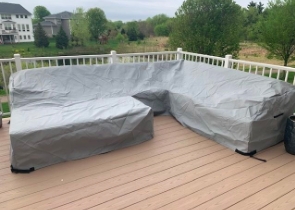 Sectional Covers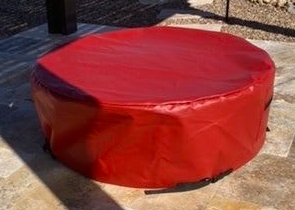 Fire Pit Covers_1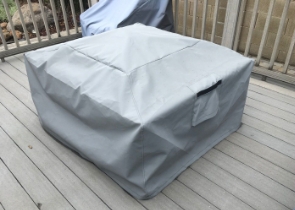 Fire Pit Covers_2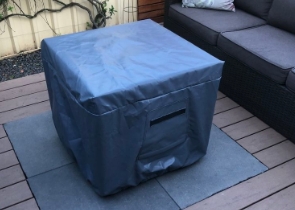 Fire Pit Covers_3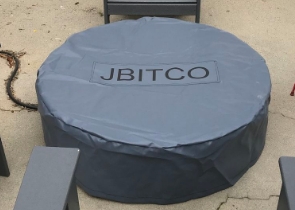 Fire Pit Covers_4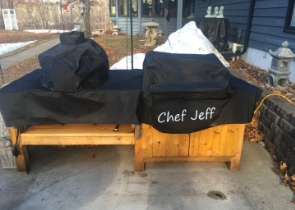 Grill Cover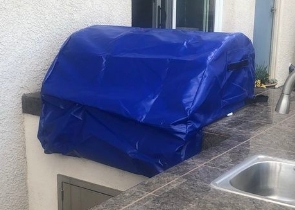 Grill Cover-1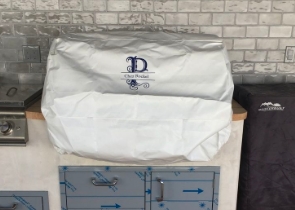 Grill Covers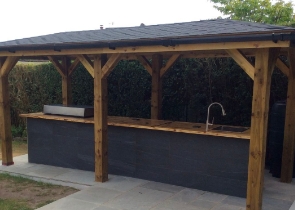 Outdoor Island Kitchen Cover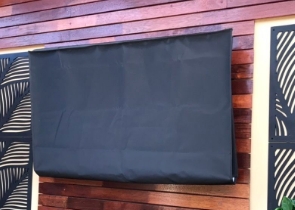 TV Cover
View more Customer Images »
Buy Weatherproof Outdoor Sofa with Heavy-duty L shape sofa covers
Are you having difficulty safeguarding your outdoor sofas? Allow Covers & All to assist you in protecting your outdoor furniture with L shape sofa covers-design 2. Our best-in-class covers are made in custom sizes to offer sung fit and complete protection from elements.
Cover Rite Fabric: The 600 denier Cover Rite fabric is made of 100% solution-dyed polyester and is PU-coated on one side. The 8 Oz fabric is lightweight, water-repellent, and UV-resistant, making it perfect for mild climes. Thanks to the coating, it can resist extremely high temperatures with little to no degradation.
Cover Max Fabric: The fabric is a PVC-coated polyester with a 1000 denier thread count which weighs 12 Oz. These covers can withstand light rain, light snow, and moderately strong sunlight without being damaged.
Cover Tuff Fabric: 1000 denier PVC coated polyester coupled with 18 Oz weight of the fabric produce exceptionally sturdy covers. This fabric can resist abrasions despite its lightweight design. Due to its waterproof properties and resilience to the sun's rays, this fabric is ideal for extreme weather conditions.
Custom Fit: You can make your garden cover one-of-a-kind by customising it with your choice of material and colour to match your existing decor. There is a wide range of dimensions you can choose for your L-shaped sofa covers to meet your needs. Our custom covers are built to provide a snug and comfortable fit for your unique shaped sofa.
Personalisation: You may make your sofa covers unique by having a monogram or family crest printed on them. This personalisation can help you transform the vibe of your garden by putting your own touch on contemporary garden covers.
Water Repellent & UV Protection: Our couch covers are the best protection you can give your furniture because they are waterproof and resistant to the sun's rays. These covers will protect your sofa set's natural colour from being faded or degraded by intense sun rays and rain water. These L-shaped sofa covers have a superior vinyl-like finish. These covers will keep your sofa looking great even after repeated uses because the durable fabric employed in the construction is wear & tear proof.
Well-Fitted Custom L Shape Sofa Covers Under Warranty
Custom Tie-downs: Covering your L-shaped sofa will be a breeze with the help of the tie-downs and grommets. No matter how strong the wind gets, the covers will remain in place, thanks to the combination of the drawstrings, waterproof zipper, push clips, and elastics. The sun, snow, rain, and weather extremes are a bane for any outdoor furniture, but these tie-downs can protect it from the ravages of nature throughout the year.
Additional Accessories: You can opt for air bags at a minimal cost to maintain optimal cover performance. Your investment is at risk when sofa covers sag and create pockets where water can collect and begin to leak through. Air bags are a great way to ensure your covers function as intended by filling in any low spots and creating a passage for water to drain off.
Warranty: To impart an added peace of mind, we offer warranty on our sofa covers l shape. There is a 2-year warranty on the Cover Rite material. There is a three-year warranty on the Cover Max material. Due to the exceptional durability of Cover Tuff fabric, we provide a 5-year warranty against any flaws in materials or workmanship.
Colourful Sofa Cover L Shape to Match Your Garden's Ambience
Colourful Fabric: Sofa covers can be ordered in any colour to perfectly complement your garden's current furnishings. You can choose a shade that best suits your individual style. The Cover Max fabric comes in a wide variety of colours, including brown, blue, white, grey, beige, and royal blue. Colors offered in Cover Rite fabric range include sky blue, navy blue, charcoal grey and beige. Black, blue, red, grey and coffee are the colours for Cover Tuff fabric.
Shop for our covers today! We offer free shipping on orders above $99.
Didn't find what you were looking for? Need to find something else? Take a look at our other custom covers here.