So Far We've Covered...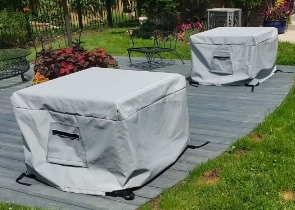 Cushion & Storage Chest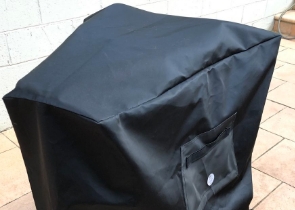 Custom Cover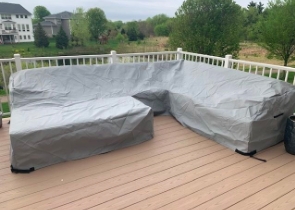 Sectional Covers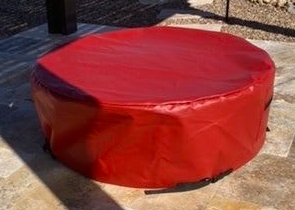 Fire Pit Covers_1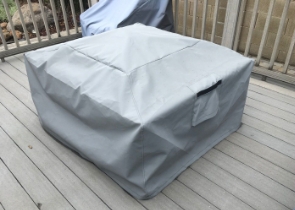 Fire Pit Covers_2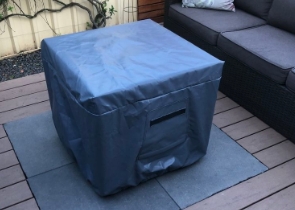 Fire Pit Covers_3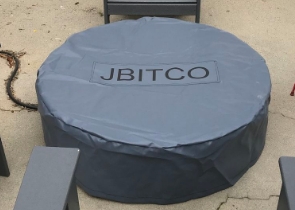 Fire Pit Covers_4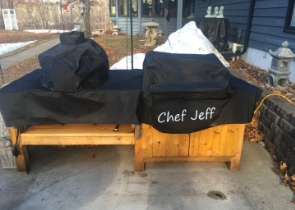 Grill Cover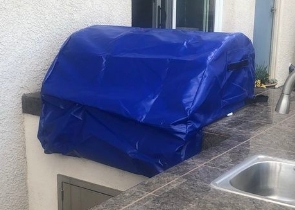 Grill Cover-1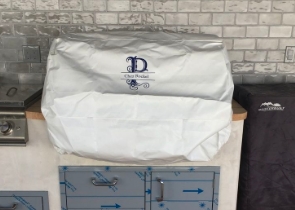 Grill Covers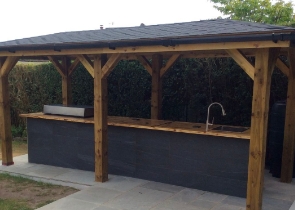 Outdoor Island Kitchen Cover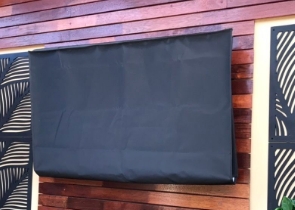 TV Cover
View more Customer Images »
We Make Our Custom Outdoor Covers with Water-Resistant Materials 
Protection of your outdoor furniture is crucial as worrisome elements such as weather, dust, or dirt can ruin your valuable items. Our patio furniture covers offer a simple solution to keeping your items in pristine condition. We craft the custom covers with precise detailing and the utmost care. These upscale coverings not only add to the elegance of your patio furniture but also shield it from the weather.
Our waterproof fabrics, Cover Rite, Cover Max, and Cover Tuff, are a marriage of beauty and accuracy. The outdoor equipment covers stand up to all exterior forces that threaten to destroy your furniture. These materials are extremely resistant to mild, semi-shaded, and harsh weather conditions, depending on the fabric. All of our materials are durable and come with a guarantee of up to three years on Cover Max and Cover Rite and five years on Cover Tuff.
A polyester backing pairs with the PVC/PVB coating to increase the strength and endurance of the waterproof covers. The fabrics range in thickness from 600 D melange to 1000 D (denier) to specifically resist precipitation while also protecting outdoor furniture from damaging UV radiation.
Our custom outdoor covers are completely customisable in terms of shape and size. Altering the size helps facilitate easier pull-in and pull-out. Additionally, you have the option of selecting colours that complement the appearance of your patio. 
Secure Your Patio Furniture Cover with Numerous Tie-Down or Grommet Configurations 
Tie-downs are an excellent solution for protecting your furniture even on severely windy days. These assist in keeping the outdoor equipment covers secure and in place. Further personalise the covers with drawstring closures, elastic at the bottom, push clips, a split zipper, or elastic with push clips.
The grommets on the waterproof covers consist of high-quality, rust-resistant brass. The grommets keep the covers securely in place along with the drawstrings. Choose where your grommets are put with spacing options ranging from, 6", 12", or 24" apart.
Personalise Your Custom Outdoor Covers
Personalise your patio furniture covers with a name, text, or any other design of your choosing to add a bit of sophistication. Add a unique and personal look to match existing decor, or showcase your brand or family name. 
After personalising the cover, share with us the exact dimensions of your furniture and get a beautiful custom cover sent right to your doorstep.
Didn't find what you were looking for? Need to find something else? Take a look at our other custom covers here.