So Far We've Covered...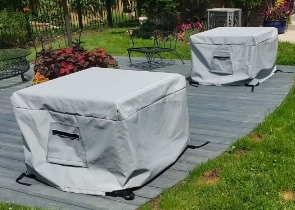 Cushion & Storage Chest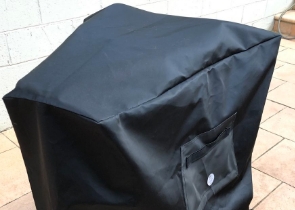 Custom Cover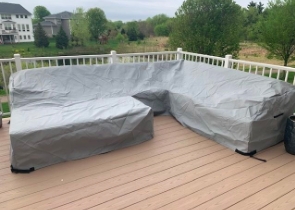 Sectional Covers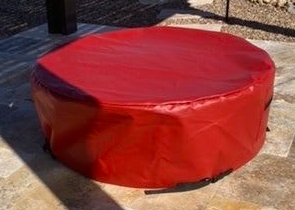 Fire Pit Covers_1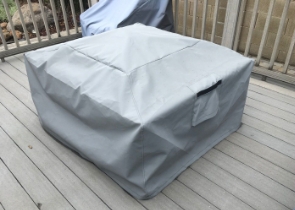 Fire Pit Covers_2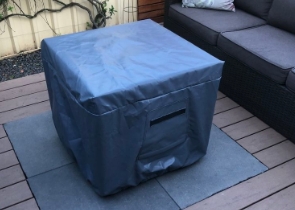 Fire Pit Covers_3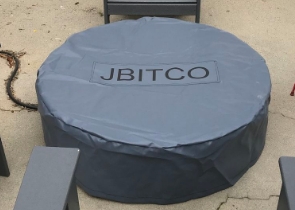 Fire Pit Covers_4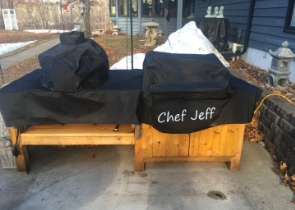 Grill Cover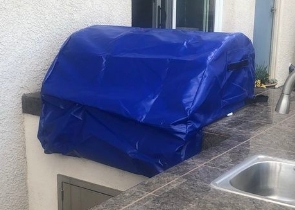 Grill Cover-1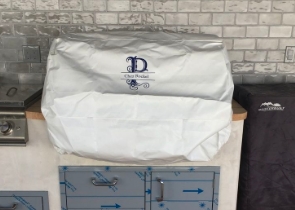 Grill Covers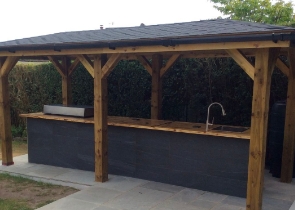 Outdoor Island Kitchen Cover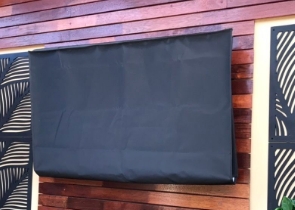 TV Cover
View more Customer Images »
Revolutionize Grill Protection with Kettle Grill Covers
Introducing our exceptional range of premium kettle grill covers, meticulously designed for unparalleled quality. These covers seamlessly envelop your valued grill, safeguarding it from pollutants like dust, dirt, and bird droppings, as well as the harsh elements of nature.
Our collection boasts three distinct, weather-resistant fabric options: Cover Max, Cover Tuff, and Cover Rite, each tailored to suit varying weather conditions and durability requirements.
Crafted from robust 1000D PVC-coated polyester, both Cover Max and Cover Tuff are premier choices, solidifying their positions as some of the finest kettle grill covers for outdoor usage, delivering excellent protection even in extreme weather conditions. These heavy-duty round grill covers, specifically designed for kettle grills, feature a medium weight, a texture akin to vinyl, and an impressive 510 g weight for Cover Tuff, all backed by a 5-year warranty. On the other hand, Cover Max presents a somewhat lighter option at 340 g, accompanied by a 3-year warranty, ensuring thorough protection and long-lasting durability.
The Cover Rite offers a lightweight yet sturdy solution, made from 600D, 100% solution-dyed polyester with a PU coating on one side, making it ideal for moderate weather and acting as a waterproof kettle BBQ grill cover. This charcoal kettle grill protective cover ensures your grill stays in top condition with its 227 g weight, water-repellent properties, and mildew resistance, supported by a 2-year warranty for assured durability and dependability.
Whether your grill is a traditional charcoal model, a BBQ, or any other type, our universal kettle grill cover guarantees a perfect fit for all sizes, embodying the very essence of protective covers for charcoal kettle grills. Use our accurate measurement tool for a tailored fit, or choose from our standard grill covers, accommodating well-known grill brands. For convenience, we recommend adding an additional 2.5cm-5cm when measuring for your cover.
Tear, scratch, and abrasion resistance are paramount in our design, especially for our Weber kettle grill models, ensuring a product that endures over time and use. These features collectively position the Cover Max, Cover Tuff, and Cover Rite as leading options in the realm of breathable fabric covers for kettle BBQs, and premium kettle grill covers with UV protection. Furthermore, for those seeking enhanced security, our kettle grill covers with drawstrings and clips provide an extra level of protection, ensuring your cover remains securely in place, even in the most challenging weather conditions.
Discover Excellence in Grilling Protection with State-of-the-Art Security Features
Ensure unparalleled protection for your kettle grill with our exceptional charcoal kettle grill protective cover, meticulously crafted to be the finest kettle grill cover for outdoor use. Our waterproof kettle BBQ grill covers provide a flawless, universal fit for grills of all sizes, encapsulating the true nature of a universal kettle grill cover.
Our heavy-duty round grill cover for kettle grills incorporates a variety of tie-down features, including a reliable drawstring, an elasticated hem, and quick-fix push clips. These attributes guarantee that your grill remains securely covered and protected, even under the most challenging weather conditions. Adding to its versatility, our cover features strategically positioned grommets at intervals of 15, 30, and 60 cm.
Invest in a combination of style, protection, and versatility with our grill cover, which also includes kettle grill covers with drawstrings and clips for an extra level of security. Upgrade your grilling experience today with our unrivalled grill cover.
Cutting-Edge Waterproof Airbags
Boost your grill's defence against moisture with our optional airbags, designed to elevate areas susceptible to water pooling, ensuring all-encompassing protection even in unpredictable weather. Compatible with our complete range of weather-resistant Kettle Covers, including custom grill covers, these airbags are a wise enhancement to our already waterproof kettle BBQ grill covers.
Available in a variety of colours, our covers are customizable, offering both unmatched protection and a splash of style. Safeguard your investment and assure its longevity with this indispensable accessory, maintaining your grill in a dry, ready-to-use condition, no matter the weather conditions.