So Far We've Covered...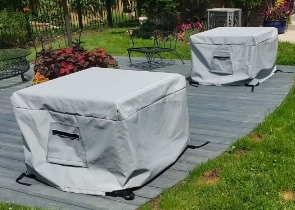 Cushion & Storage Chest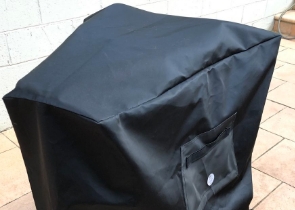 Custom Cover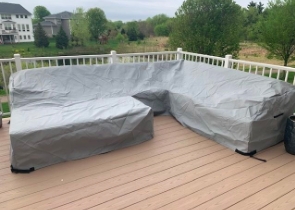 Sectional Covers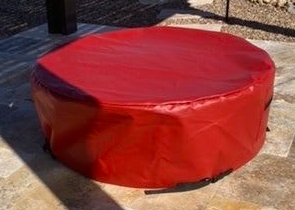 Fire Pit Covers_1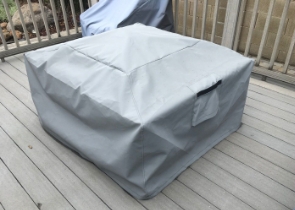 Fire Pit Covers_2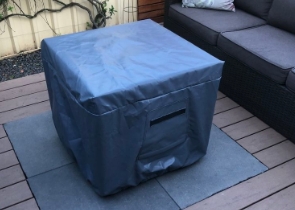 Fire Pit Covers_3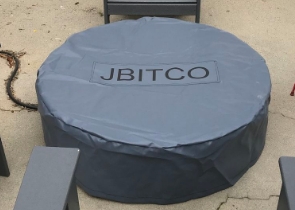 Fire Pit Covers_4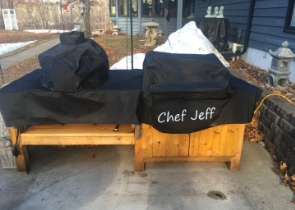 Grill Cover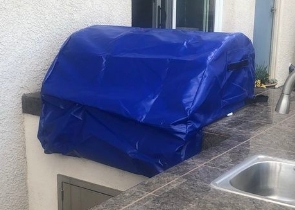 Grill Cover-1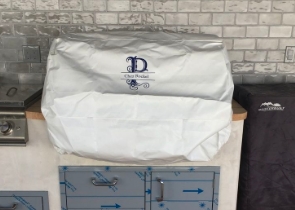 Grill Covers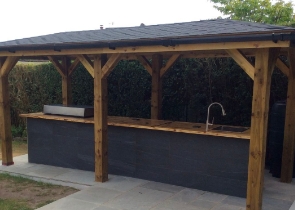 Outdoor Island Kitchen Cover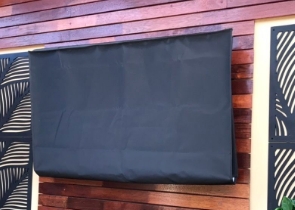 TV Cover
View more Customer Images »
Boat Centre Console Covers Made of Robust and Weather-Resistant Fabric 
Are you concerned about leaving your boat out in the open, vulnerable to the elements? With our T-Top console covers, you are certain of complete weather protection. They provide excellent coverage, a secure fit, long-lasting durability, and keep the centre console looking brand new.
Our waterproof boat console covers come custom-made to fit a 42 in. H x 36 in. W x 23 in. D x 20 in. (front height) console. The covers are completely resistant to water and UV rays. Tear and abrasion-resistant fabrics are suitable for all climates. Each seam is double-stitched for added durability, and well-structured air vents prevent air accumulation, condensation, and mildew and mould growth.
These boat accessories covers are available in three different fabrics. For shaded and partially shaded areas, we offer a Cover Fab made of lightweight (12 Oz) 600 denier melange polyester with a PVB backing. It is available in two colours and comes with a 3-year warranty. Both Cover Max and Cover Tuff comprise 1000 denier, PVC-coated polyester. These fabrics are 12 oz. and 18 oz. in weight and come with a 3 and 5 years warranty, respectively. Cover Max is available in 6 colours and is ideal for mild weather, while Cover Tuff is available in 5 colours and resists harsh weather conditions.
We offer boat centre console covers for Boston Whaler, Everglades Caroline Skiff, Pursuit Boats, Grady-White, Regulator, Trophy, Hydra Sports, World Cat, and Century Boats, among others. All of our covers are custom-made to fit all sizes and shapes of center consoles, regardless of brand.
Numerous Tie-Down Options are Available for T-Top Console Covers
There are several accessories available to keep your waterproof boat console covers well-fitted and protected. The hem comes finished with a drawstring or elastic. Rustproof grommets aid in the drawstring's operation. Attach split clips or a water-resistant push-up zipper for added convenience. Personalise and select the correct fit for your specific requirements.
Have any monogram or logo printed on your boat accessories covers using UV-resistant printing. The print's colours will not wash-away or fade off. Input your colours, design, font, and the location for the print, and we will take care of the rest. Airbags provided (at a reasonable cost) conceal sunken points and prevent the formation of water pools on the covers.
Purchase Multiple Boat Centre Console Covers to Save More
Buy two or more of our t top console covers and get substantial discounts. Consider our discount table and then make your choice. At Covers & All, you save even more on each additional order.
Didn't find what you were looking for? Need to find something else? Take a look at our other custom covers here.