So Far We've Covered...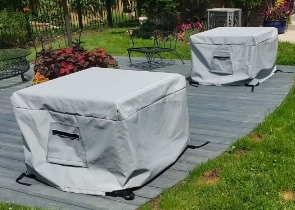 Cushion & Storage Chest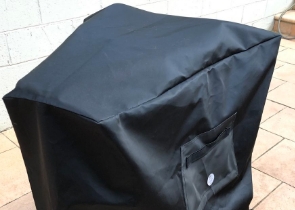 Custom Cover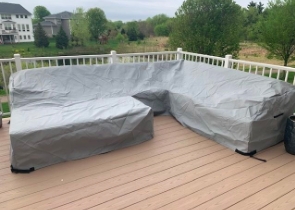 Sectional Covers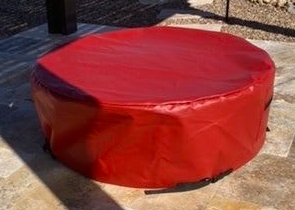 Fire Pit Covers_1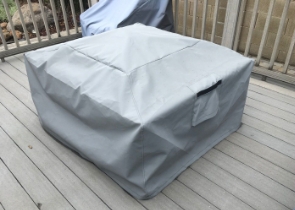 Fire Pit Covers_2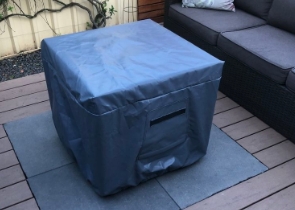 Fire Pit Covers_3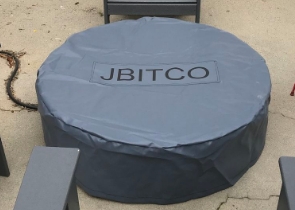 Fire Pit Covers_4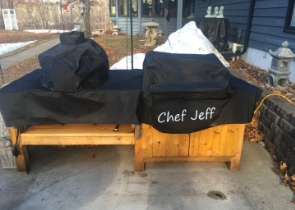 Grill Cover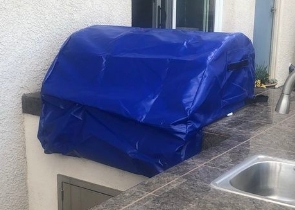 Grill Cover-1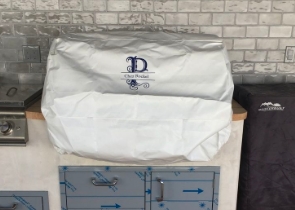 Grill Covers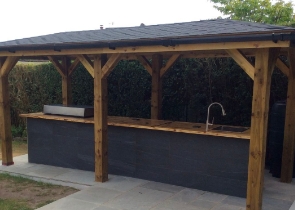 Outdoor Island Kitchen Cover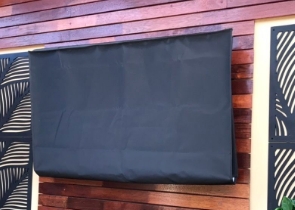 TV Cover
View more Customer Images »
Add Style to Your Outdoor Paradise with UV-Resistant Premier Outdoor Roller Shades
In pleasant weather, nobody wants to confine themselves in a closed room. Especially, when it's balmy outside. To get best of both worlds, Covers & All's premier outdoor roller shade is the most suitable choice. Offering you complete protection from outdoor elements while letting you enjoy the outdoor view, our roller shades are a worthy addition to your interiors.
The shades are crafted with a blend of 70% PVC and 30% polyester fabric that adds to the durability. They are available in two variants - 3% openness and 10% openness. Roller shades with 3% openness offer more opacity when compared to the shades with 10% openness, which are more transparent. You can choose the most appropriate one as per your needs.
The shade sails are UV resistant to prevent fading of furniture and protect you from the scorching sunlight. So, you can enjoy the warmth without getting roasted in the intense heat. The roller shades weigh 13 oz and are perfect for outdoors and indoors.
Besides offering the best protection from harmful radiation, the solar shades keep you safe from snooping eyeballs. Now you can enjoy some personal time or amuse your peers and loved ones without anyone intruding your private affairs. Facing outdoors, the garden sail shades may fall prey to harsh conditions causing scratches, abrasions, and tears over time. To brave this challenge, we designed our shades using tear and abrasion resistant material.
The Fire-Retardant & Anti-Bacterial Roller Shades Offer Absolute Protection
Crafted using fire-retardant fabric, the garden roller shades help prevent the spread of fire or lessen its intensity to keep your family safe and secure. This way, your home or office stay shielded against the potential harm of a fire outbreak. Besides, the shades are treated with anti-bacterial solution to offer you a safer environment indoors. Plus, our anti-bacterial treated shades won't let the bacteria grow or dwell in your space.
The durable roll up outdoor shades are GREENGUARD Gold Certified, which means the shades are low in chemical emissions and are ideal for your health. The accreditation ensures better air quality, reducing indoor pollution and dust. Chemically processed, these indoor-friendly shades won't release any harmful chemicals.
Attractive Outdoor Roller Shades are Available with Two Lifting Options
Available in two different colours- beige and brown, our custom sun shade sail look exquisite and voguish. These outdoor shades are available with two lifting options – nylon bead chain and aluminium crank. The lifting options ease the usage of shades and proffer a classy appeal. Reinforced with strength, the shades come with a warranty of up to 5 years
Didn?t find what you were looking for? Need to find something else? Take a look at our other custom covers here.