So Far We've Covered...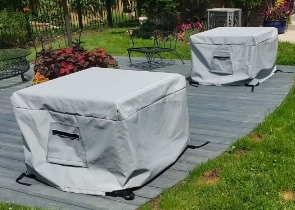 Cushion & Storage Chest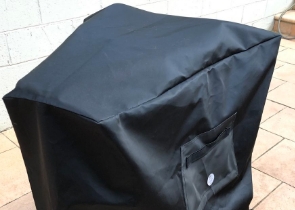 Custom Cover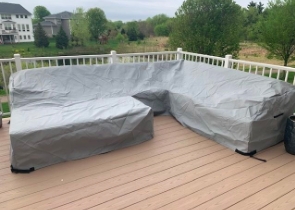 Sectional Covers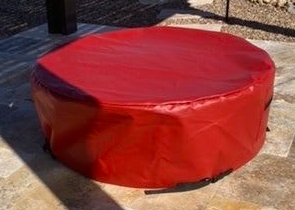 Fire Pit Covers_1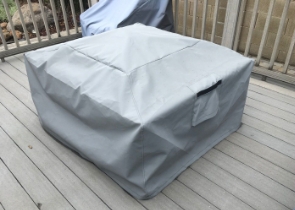 Fire Pit Covers_2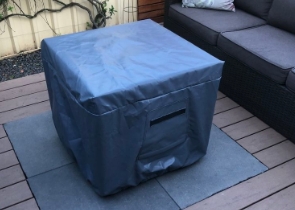 Fire Pit Covers_3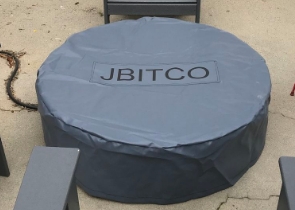 Fire Pit Covers_4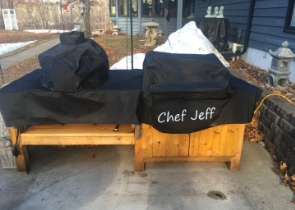 Grill Cover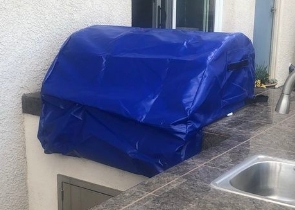 Grill Cover-1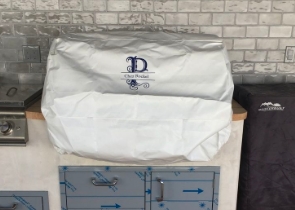 Grill Covers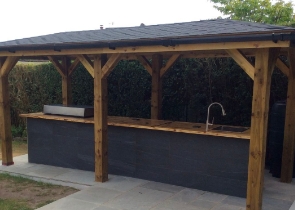 Outdoor Island Kitchen Cover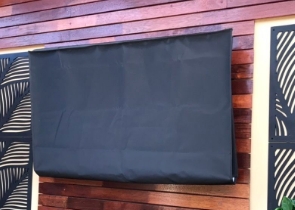 TV Cover
View more Customer Images »
Outdoor Air Conditioner Covers for Partly Covered Outdoors and Average Weather
Summer heat can degrade the efficiency of appliances. The only option to resolve this issue is to protect your air conditioner with a completely waterproof and weatherproof cover. Our AC outdoor unit covers can endure moderate environmental conditions. They help safeguard your furniture against water, dust, UV radiation heat, and all other external elements.
We employ high-quality Cover Rite, Cover Tuff, and Cover Max fabrics to make our covers. All these fabrics are long-lasting, weather-resistant, and extremely sturdy, and can withstand average weather. Cover Max and Cover Rite textiles have a 3-year warranty, while Cover Tuff has a 5-year warranty. We offer a variety of size and dimension options, as well as the possibility of customising the fabrics.
The waterproof AC covers' UV-resistant feature enables them to withstand mild weather. This function extends the life of the covers and protects them against early deterioration caused by any environmental conditions. We provide the option of customising the height to match the size of your air conditioner. Additionally, you gain extra lee-way for smooth pull-out and pull-in.
Our custom air conditioner covers provide three tie-down options for a secure fit. Push-clips, split velcro or drawstrings are all options. These tie-downs help keep the covers in place all through the season.
Add a Text or Logo to Personalise Your AC Outdoor Unit Covers
Enliven your outside space with coloured texts, logos, or names. Choose from a variety of hues in our colour pallet to complement your style and environment. Additionally, you can supply a reference image to guarantee that we produce your custom air conditioner covers as per your specifications.
Use Air Bags to Elevate the Outdoor Air Conditioner Covers' Sunken Points
Our AC outdoor unit covers entirely comprise of weatherproof and waterproof fabrics. However, water can occasionally seep in through the seam, and to avoid the formation of water pools, we recommend placing our completely waterproof airbags beneath the cover. The airbags lift your coverings' sunken areas, providing additional protection.
Didn't find what you were looking for? Need to find something else? Take a look at our other custom covers here.