So Far We've Covered...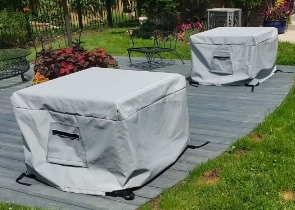 Cushion & Storage Chest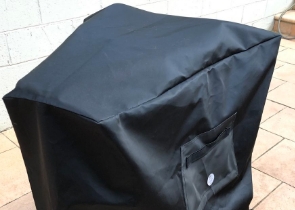 Custom Cover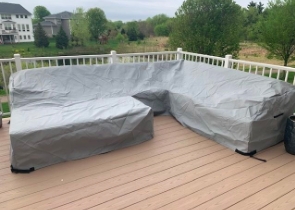 Sectional Covers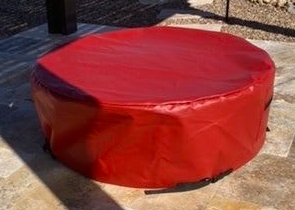 Fire Pit Covers_1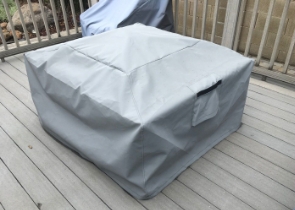 Fire Pit Covers_2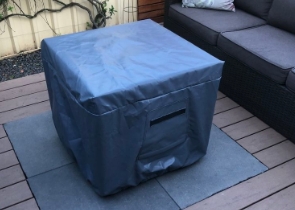 Fire Pit Covers_3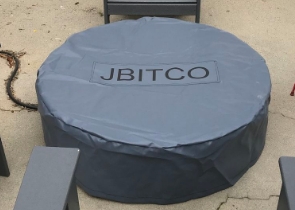 Fire Pit Covers_4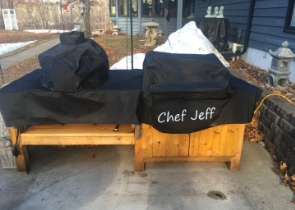 Grill Cover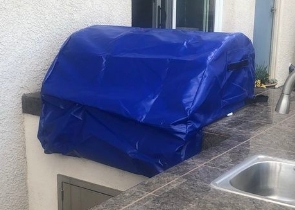 Grill Cover-1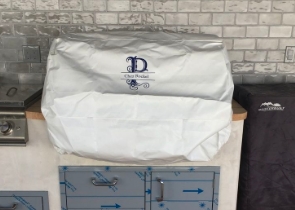 Grill Covers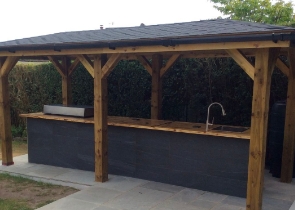 Outdoor Island Kitchen Cover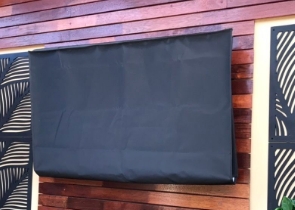 TV Cover
View more Customer Images »
Our Durable Custom L-Shaped Sofa Slipcovers are Stretchable
Sectional sofa sets are an indispensable part of living spaces, whether indoors or outdoors. An L-shaped sofa serves as the focal point of leisure on your porch. It also lends a relaxing vibe to the overall decor of the home, making the place more inviting. Despite all the care bestowed on your L-shaped sofa to keep it clean, stains, spills and other damages caused by the ill-effects of the elements have a way of getting to it. Considering the same, Covers & All offers premium custom L-shaped sofa slipcovers. These durable slipcovers are the ideal answer for keeping your L shaped sofas looking as good as new all the time. They can also be used for keeping your furniture safe during seasonal changes, when moving, cleaning, or storing your sofa.
Made of 900 D, our sofa slipcovers are made of a blend of 92% polyester and 8% spandex. The material is known for its elastic characteristics. The stretchable fabric of our covers endows a snug fit to the sofa without getting creased.
The heavy-duty polyester is perfect to withstand moderate weather conditions. The waterproof material offers an excellent shield to the L-shaped sofa against the rain, moisture, rust and mildew. The UV resistant properties of our covers protect the sofas from getting faded or jaded despite long sun exposure. With a graphic weight of 5 Oz, our highly durable sofa slipcovers are tear and abrasion-resistant. They are not likely to tear or fray easily and last for a long time. The L-shaped sofa slipcovers offer up to 2 years of warranty.
Ideal for moderate weather, our high-quality L-shaped sofa slipcovers are available in white-hued fabric and various interesting patterns. From pretty floral designs to sophisticated geometric patterns, you can pick the sofa slipcovers suiting your decor style.
Custom L-Shaped Sofa Slipcovers are Convenient to Place/Remove
For added endurance and security of slipcovers outdoors, our sofa slipcovers are provided with sturdy elastic at the bottom. The stretchable elastic helps fix the covers in place even in the windiest weather. Besides lending a precise fitting, the elastic tie-down facilitates convenient placement and removal of the covers as and when required.
Considering how important the impeccable finish and look of the sofas are, we offer a set of 15 EPE foams as an additional accessory. The EPE foam or Expanded Polyethylene foam help tuck the extra fabric inside the sofa and give your slipcover a cleaner and neater look.
Our Custom L-Shaped Sofa Slipcovers are Available in Custom Sizes
In view of diverse sofa designs and their sizes, at Covers & All, we offer sofa slipcovers in custom sizes. Using our online measurement tool, you can fill in the exact dimensions of your sofa and get bespoke covers tailormade to fit your couch precisely. While adding the dimensions, make sure to add a 1-2" leeway to facilitate easy removal & placement of the covers.
Didn't find what you were looking for? Need to find something else? Take a look at our other custom covers here