So Far We've Covered...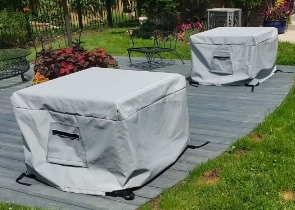 Cushion & Storage Chest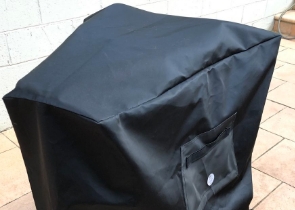 Custom Cover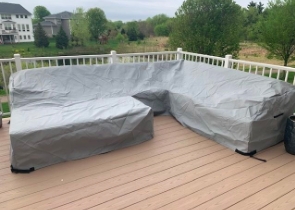 Sectional Covers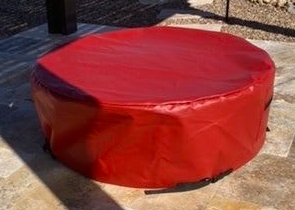 Fire Pit Covers_1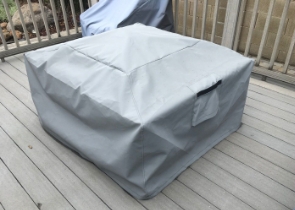 Fire Pit Covers_2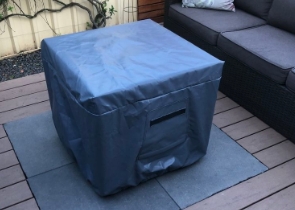 Fire Pit Covers_3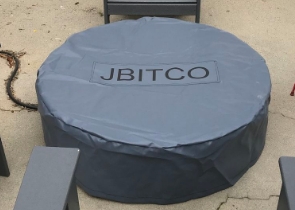 Fire Pit Covers_4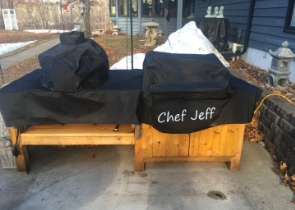 Grill Cover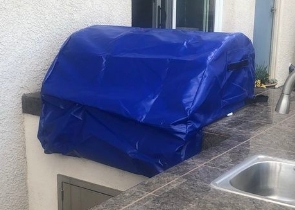 Grill Cover-1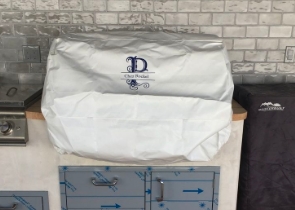 Grill Covers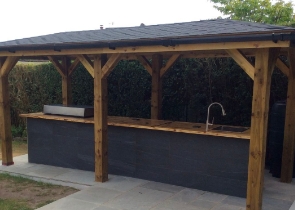 Outdoor Island Kitchen Cover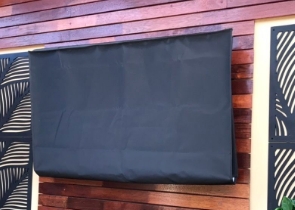 TV Cover
View more Customer Images »
Protect Outdoor Items with Customisable and Durable Outdoor Chair Covers 
When you combine a stylish table with the proper chair set it transforms your outside space into a personal sanctuary. However, depending on your location, your patio furniture may be susceptible to weather damage, with conditions ranging from heavy rain, hail, or the sun's UV rays. Our garden chair covers are a wise investment to safeguard your valuable furniture.
Our sturdy table coverings consist of solution-dyed polyester fabric, giving your furniture an unparalleled aesthetic. These coverings provide protection from all weather conditions. We reinforce your waterproof chair covers with top-grade fabrics including Cover Rite, Cover Tuff, and Cover Max. These lightweight textiles not only enhance the appearance of your seats but make them easy to manoeuvre.
Outside furniture covers are resistant to UV radiation, water, tearing, abrasion, mould, and mildew due to the PU/PVC coating. This unique top-coat extends the life of the furniture and protects the coverings from early fading. Our covers come with a warranty of up to three or five years, depending on the fabric you choose.
Our outdoor chair covers come in a variety of shapes and sizes. You may choose from roughly 33 different forms to suit your needs for the optimal fit. Additionally, we provide the option of customising the height to fit your chair. 
Select from Various Tie-Down Options for your Garden Chair Covers 
Our waterproof chair covers come with a variety of tie-down options to guarantee a secure and snug fit. To meet your needs, choose from selections such as drawstrings, elastic at the bottom, Velcro, push clips, or a waterproof split zipper. For further protection, you may choose the combination of elastic at the bottom and push clips.
To reinforce the fit of your cover, we also provide the option to include grommets. These grommets, made from high-quality rust-free brass, give an extra layer of security. They are pre-spaced at 12 inches; however, you may alter the spacing between grommets.
Add a Personal Touch to Your Outdoor Chair Covers
Enhance the look of your garden chair covers with brilliant colours and patterns. We provide a variety of shades to choose from, as well as the option to upload your own design, giving you everything you need to create a unique cover. 
Personalise your covers with a name, logo, and creative text/design. Place your order and keep your furniture attractive all year long.
Didn't find what you were looking for? Need to find something else? Take a look at our other custom covers here.
Frequently Bought Together