So Far We've Covered...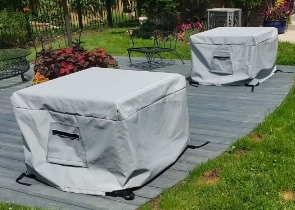 Cushion & Storage Chest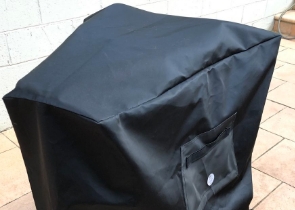 Custom Cover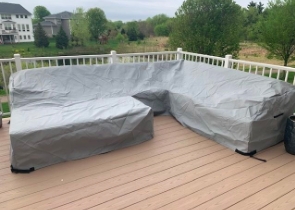 Sectional Covers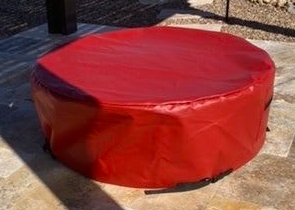 Fire Pit Covers_1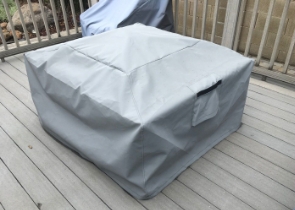 Fire Pit Covers_2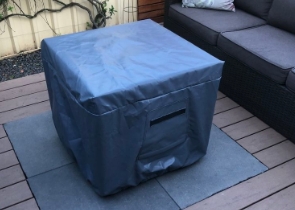 Fire Pit Covers_3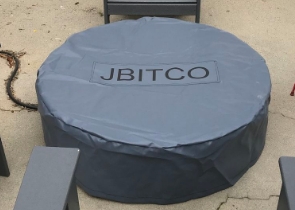 Fire Pit Covers_4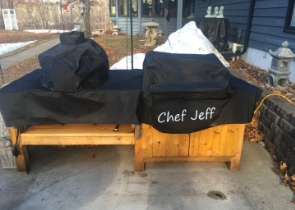 Grill Cover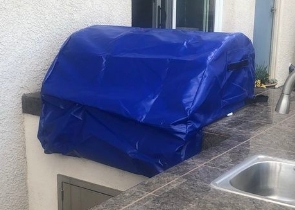 Grill Cover-1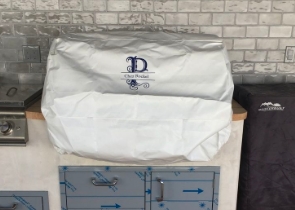 Grill Covers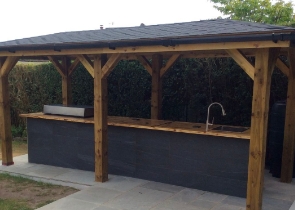 Outdoor Island Kitchen Cover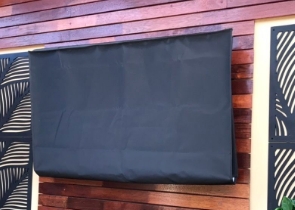 TV Cover
View more Customer Images »
 Patio Chair Covers Made of Durable Fabric
Are you looking for a way to protect your outdoor furniture from extreme weather? Want to keep them looking as if they were brand new? Allow our garden furniture covers to protect them. The covers help protect your outdoor chairs from the elements, including frost, rain, wind, bird droppings, dirt and other undesirable debris. Personalise by selecting the fabric, colour, and tie-down options.
These outdoor chair covers come from robust and long-lasting fabrics. They are water- and UV-resistant. We offer three distinct fabric types, based on the weather and your specific requirements. They fit snugly to a chair with a height of 22", a width of 12", a total depth of 18", and a front height of 18". Fabrics are heavy-duty and resistant to tears and abrasion.
The first option is Cover Rite, which is suitable for mild weather. This is a 600 Denier, 100% solution-dyed polyester fabric with a PU coating on one side. Its graphic weight is only 8 oz, making it extremely lightweight. This fabric for the waterproof chair covers is available in four different hues and comes with a 3-year warranty.
The second and third chair cover options, Cover Tuff and Cover Max, come from a PVC coated polyester fabric with a 1000 denier thickness and a medium weight. Cover Tuff is especially useful in harsh weather; it comes in 5 different colours and has a 5-year warranty. Cover max is ideal for mild weather, comes in 6 different colours, and comes with a 7-year warranty for your patio chair covers.
Tie-Down Alternatives Available with Our Garden Furniture Covers
To ensure the security of our outdoor chair covers, we offer a variety of tie-down options. At the bottom, incorporate a drawstring or elastic. Add push clips to secure the chair's legs or grommets at the bottom to run your drawstring through. Another possibility is to attach a push zipper to the cover. Airbags conceal sunken points on the covers to prevent the formation of water pools. You can use whatever is most convenient for you.
Your logo or text are printable on the waterproof chair covers. Personalise the print's design, colour, and position with us and we'll take care of it.
Our Chair Covers Are Available for Bulk Purchase 
We provide a special offer on patio chair covers purchased in bulk. The price per unit continues to decrease as the quantity purchased increases. The more you order, the cheaper it is.
Didn't find what you were looking for? Need to find something else? Take a look at our other custom covers here.
Frequently Bought Together