So Far We've Covered...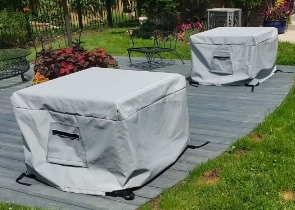 Cushion & Storage Chest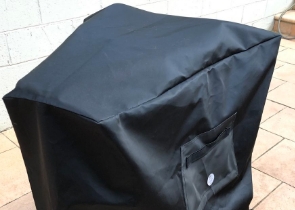 Custom Cover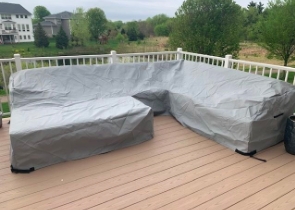 Sectional Covers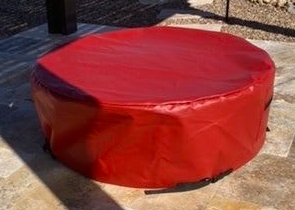 Fire Pit Covers_1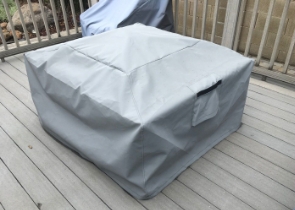 Fire Pit Covers_2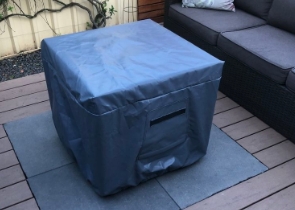 Fire Pit Covers_3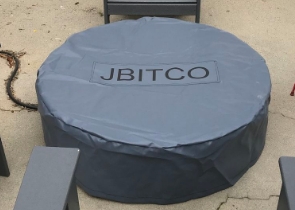 Fire Pit Covers_4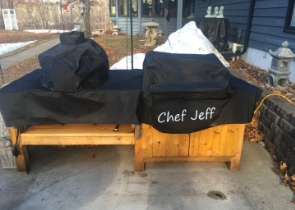 Grill Cover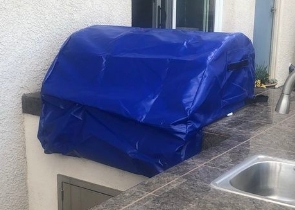 Grill Cover-1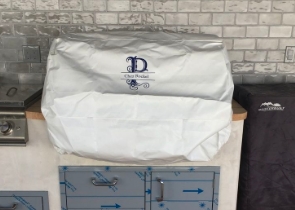 Grill Covers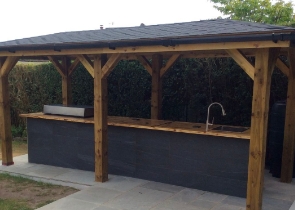 Outdoor Island Kitchen Cover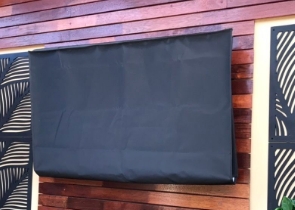 TV Cover
View more Customer Images »
Custom Round Trampoline Covers Made of Durable PVC/PVB Coated Polyester
Besides being a great piece of equipment for workouts, a trampoline is a great attraction for the children. However, it is prone to harsh weather and its degrading effects. Since there are chances of it getting degraded due to corrosion and rust, sheathing them with sturdy waterproof covers is significant. Covers & All offers the best trampoline covers that ensure all-weather protection.
Made using PVC/PVB coated polyester fabric, the trampoline tarp covers can withstand extreme weather conditions. Our covers are crafted with 100% waterproof fabric that doesn't let water seep inside despite heavy rainfall. As our covers are made of UV-resistant material, the covers do not fade despite being exposed to harsh sunlight.
Being tear and abrasion-resistant, the covers do not become frayed or unravelled. They can sustain jumping around without getting ripped or developing any cuts and abrasions. They retain their texture even on cold, winter mornings. The trampoline top covers weigh between 12 to 18 oz and can be easily folded and kept away for further use.
Available in multiple colours and fabrics, the round trampoline covers offer you a range of choices. You can pick the one that goes best with your requirements. You can even customise the size of the trampoline covers as per the exact dimensions of your trampoline using the measurement tool given on our website. Make sure to provide a 1-2" leeway while adding measurement for easy removal & placement of the covers with ease.
Trampoline Covers are Available in a Variety of Fabrics & Tie-Downs
Our trampoline covers come in a variety of fabric options: Cover Max, Cover Fab, and Cover Tuff. Our Cover Max & Cover Tuff are 1000 Denier PVC-coated polyester fabrics that are ideal for moderate to extreme weather conditions. Weighing 12 Oz to 18 Oz, both the fabrics are heavy-duty yet lightweight materials that prove to be sturdy covers, offering long-lasting use. With 600D melange, PVB backing polyester, the Cover Fab material fits best for shaded or semi-shaded areas.
Our highly durable trampoline covers come with multiple tie-down options for added endurance and security. We offer a drawstring and elastic at the bottom of the covers for a snug fit. You can customise the tie-downs according to your preference to keep the covers in place even in the windiest weather. For additional security, our covers are equipped with brass grommets at every 6"/12"/24". You can easily interlace a cord through them to ensure the covers do not get dislodged.
Personalise Your Round Trampoline Covers with Design of Your Choice
Want to add a personal touch to your waterproof trampoline covers? Get a name, text, or logo of your choice imprinted on the covers with easy-to-follow steps. Simply upload an image or a design of your preference to our website and get the personlised covers crafted exclusively for you. Order now to get custom-made trampoline covers delivered right to your doorstep.
Didn't find what you were looking for? Need to find something else? Take a look at our other custom covers here.