So Far We've Covered...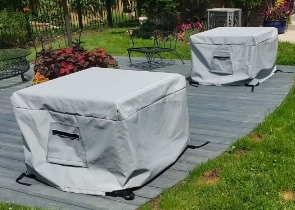 Cushion & Storage Chest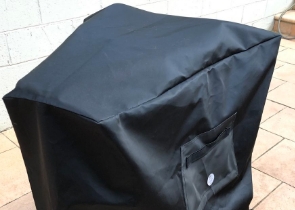 Custom Cover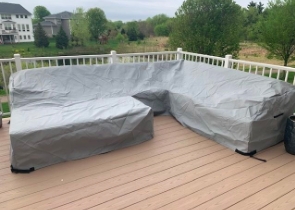 Sectional Covers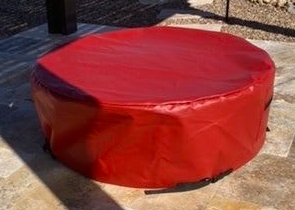 Fire Pit Covers_1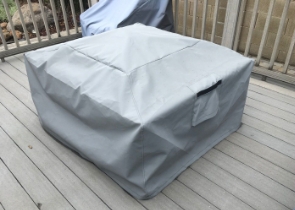 Fire Pit Covers_2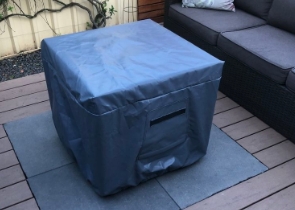 Fire Pit Covers_3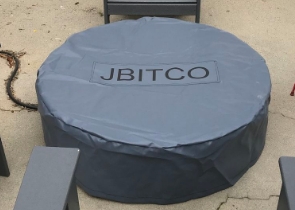 Fire Pit Covers_4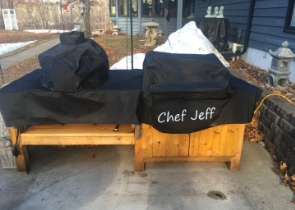 Grill Cover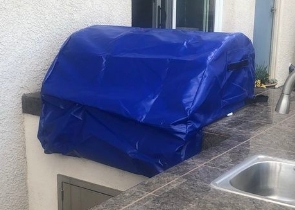 Grill Cover-1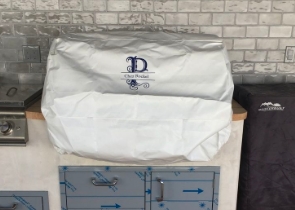 Grill Covers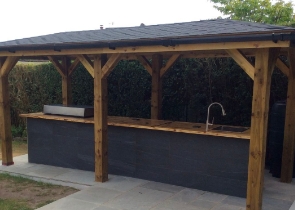 Outdoor Island Kitchen Cover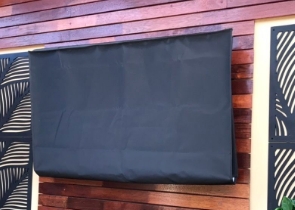 TV Cover
View more Customer Images »
Safeguard Your Patio Table with Custom Outdoor Covers
Your patio's distinct triangle-shaped table is constantly receiving compliments from friends and family. However, because it is open to the atmosphere, you trouble over your table's appearance and charm deteriorating over time. This is where Covers & All comes in with their patio furniture covers, which guarantee protection from the elements.
Our outdoor equipment covers comprise high-quality PVB/PVC-coated polyester materials that are long-lasting and weather-resistant. With a density varying from 600 D melange to 1000 D (denier), they can withstand mild to severe weather conditions, based on the fabric selected.
For the waterproof covers, we use high-grade fabrics such as Cover Fab, Cover Max, and Cover Tuff. These high-quality fabrics contribute to our table covers' strength and longevity. They come water-resistant and impervious to UV rays, which keep your furniture bare and feeling new for an extended period. Cover Fab and Cover Max offer a 3-year fabric warranty, while Cover Tuff offers a 5-year warranty.
These custom outdoor covers are customisable. We have every custom-tailored solution for your table, from selecting your favourite colour to customising the size and shape of the cover. When inputting the specifications of your table, use our measuring tool. Key in the precise length from one side to another. We include 0.5 in. to 1.5 in. leeway to the specified width/depth to accommodate simple pull-in and pull-out operations.
Increased Security with Tie-Downs and Grommets for Your Patio Furniture Covers 
The tie-downs on our outdoor equipment covers combine durability and excellence, putting up a fight against not only windy days but also debris, dust, and rain showers. When the covers are not in use, tighten them at the bottom to keep them looking snug, safe, and tidy. There are several options available, including a drawstring, push zipper, elastic at the bottom, and split clips.
We supply corrosion-resistant brass grommets. These devices facilitate the passage of the drawstring and ensure the waterproof covers fit snugly. Grommets have spacing of 6, 12, and 24 inches apart and are adjustable to your preference.
Style Your Custom Outdoor Covers With Customised Text or Logo 
Apply our modification option to create a fresh, distinctive appearance for your patio furniture cover. Customise it by imprinting it with your name, a message, or a design you like using UV-resistant ink. All that remains is for you to input the specifications of the table, choose a fabric, colour and customise your custom cover. Put in your order and get them delivered directly to your home.
Didn't find what you were looking for anywhere else? Take a look at our other custom covers on our website.
Didn't find what you were looking for? Need to find something else? Take a look at our other custom covers here.