So Far We've Covered...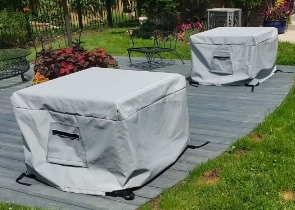 Cushion & Storage Chest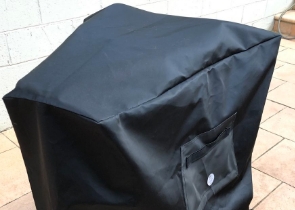 Custom Cover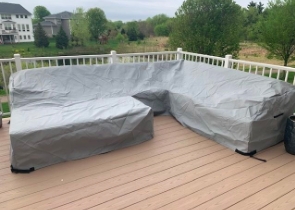 Sectional Covers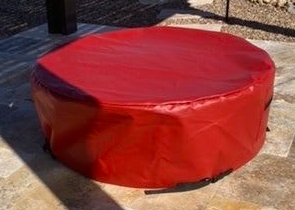 Fire Pit Covers_1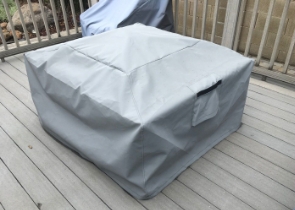 Fire Pit Covers_2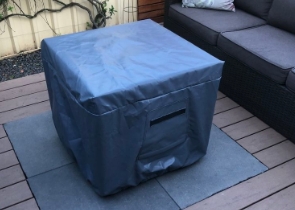 Fire Pit Covers_3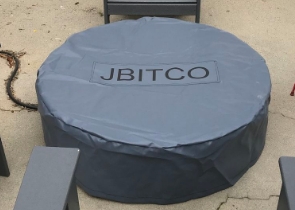 Fire Pit Covers_4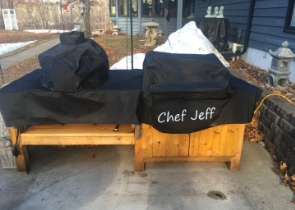 Grill Cover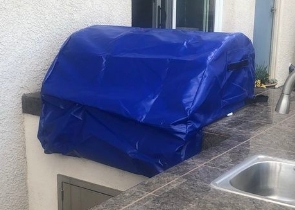 Grill Cover-1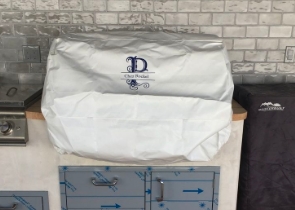 Grill Covers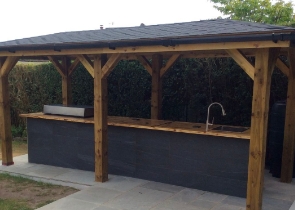 Outdoor Island Kitchen Cover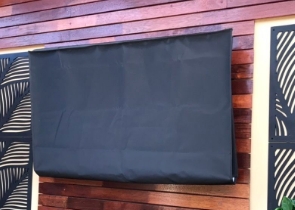 TV Cover
View more Customer Images »
L-Shape Cushion Covers Offer Resistance to Water and UV Rays
Potted plants and comfy couches dress up your patio, but you need protective covers to keep your L shape cushions safe from the elements. Covers & All has outdoor cushion covers that are sure to meet your style and needs while protecting your cushions.
Resistance to tearing and scratches means our patio cushion covers are suitable for outside use. Water repellent fabric blocks moisture to prevent mildew and makes it fast to clean the covers when you need to. You can throw a party for the kids and watch the covers resist food, wear, and spills.
Exposure to direct sunlight doesn't fade the waterproof cushion covers thanks to the UV resistance in the fabric. There's no need for you to constantly move the cushions out of the sun since the covers keep their lustre and original colour.
There are three long-lasting and extremely durable fabric options for our L-shape cushion covers. All three options are easy to slip on and off cushions because of the lightweight material that ranges between 8 and 12 oz. Cushion Rite is polyester with 600 denier and a PU coating on one side. This option comes with a 2-year warranty. The PVB-backed polyester in the Cushion Fab material feels similar to fabric. This option is a good choice for shaded areas and has a 3-year warranty. Lastly, Cushion Print is ideal for moderate weather with water-repellent properties. We recommend taking the covers indoors during severe weather.
Various Prints and Colours for Our Outdoor Cushion Covers
Customise your patio cushion covers to your specifications with the form on our website. Once we have the details, we can tailor-make covers for you. As an alternative, you can give us the brand and we can make covers based on that information.
Our waterproof cushion covers come in a wide range of colours. This includes beige, navy blue, sky blue, charcoal grey, checkered, and floral patterned. You can slide cushions in and out easily with zippers on the covers so you don't have to spend a lot of time or work up a sweat to insert the cushions.
Personalising Our L-Shape Cushion Covers is Possible
Make a fashion statement and show off your personality with customisable outdoor cushion covers. We can print images, text, or logos on the covers. Just upload the design of your choice on our website and we'll do it for you. 
Only the L-shape patio cushion covers come with the order. We don't include cushions or pads. Order your covers now and we'll send them to your door in a matter of days.
Didn't find what you were looking for? Need to find something else? Take a look at our other custom covers here.