So Far We've Covered...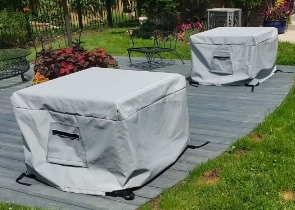 Cushion & Storage Chest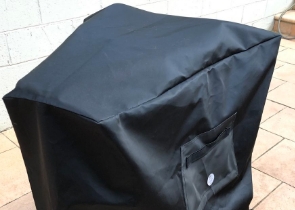 Custom Cover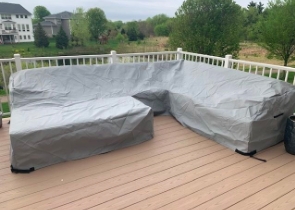 Sectional Covers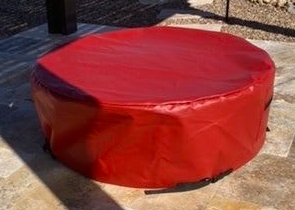 Fire Pit Covers_1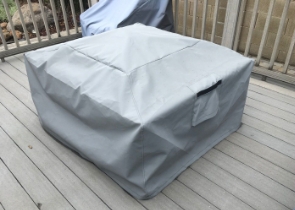 Fire Pit Covers_2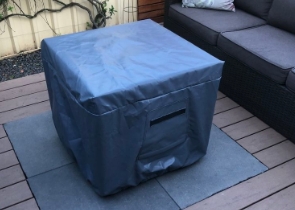 Fire Pit Covers_3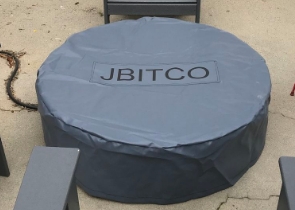 Fire Pit Covers_4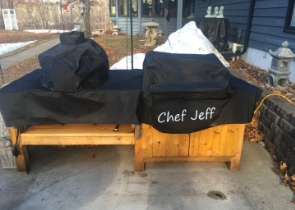 Grill Cover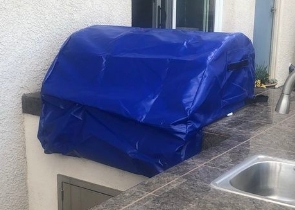 Grill Cover-1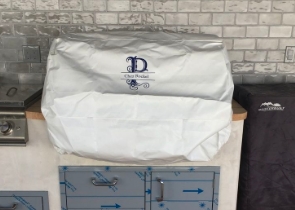 Grill Covers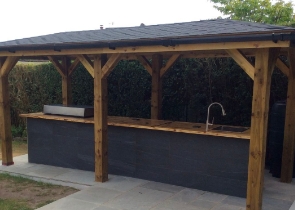 Outdoor Island Kitchen Cover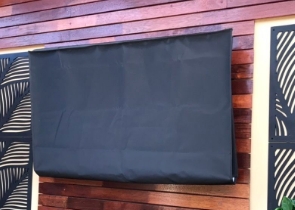 TV Cover
View more Customer Images »
High-quality and Weather-resistant Fabric For Outdoor Island Covers
It's lovely to relax with a drink at your outdoor bar, but discovering it wet and unclean might be a bummer. Place a purchase for our custom bar covers and rest confident that we will protect your personal or business bar throughout the year. Our covers have a professional finishing, a perfect snug, and promise to protect your bar from the elements such as the sun's rays, rainfall, snowfall, bird droppings, and dirt.
Our outdoor bar covers fit a bar with measurements of 49" (H) x 27" (D) x 55" (W) x 82" (front curve) x 69" (back curve). The double stitching offers additional strength and robustness. We construct all of our covers with fabric that is watertight, rip, UV and scratch-resistant. They have positioned air vents to aid airflow and inhibit the spread of mould and mildew.
Choose from the three various types of textile and colour alternatives available based on your needs and preferences. We construct our Cover Tuff and Cover Max fabrics of high-density, PVC-enveloped polyester with a 1000 Denier rating. They are available in graphic weights of 12 Oz and 18 Oz in a variety of colours. Cover Max is a six-colour choice that is appropriate for mild weather. Cover Tuff is available in five distinct colours and can endure adverse weather. We manufacture our waterproof bar covers from Cover Fab of 600 denier melange polyester with a PVB on the backside. It comes in two colours and has a graphic mass of 12 oz, making it better suitable for shadowed and semi-shaded regions.
Cover Max and Cover Fab come with a warranty of 3 years, while Cover Tuff has a 5-year guarantee. All of our outdoor island covers are easy to install, remove, and store. They're simple to clean.
Tie-Down Options Available On Our Custom Bar Covers
To hold the cover in place, the seams include an elastic or a drawstring. The drawstring will adjust more evenly with corrosion-resistant grommets. The Push hooks, if used, will aid in securing the lid. Attach a corrosion-free zipper to the outdoor bar covers for easy replacement and installation. Airbags will help to conceal the sunken points and inhibit the formation of water puddles.
Add a logo, phrase, or pattern of your desire to the waterproof bar covers to make them more customised. Email us your colour choices, pattern, and location for the design, and we'll have it printed using UV-coated ink.
Purchasing More Outdoor Island Covers For Discounts
You may save even more money by purchasing many personalised bar covers. Anyone who purchases two or more of these custom table covers will get a discount. Our discount increases with the number of orders we receive. Take this chance and make your purchase now.
Didn't find what you were looking for? Need to find something else? Take a look at our other custom covers here.