So Far We've Covered...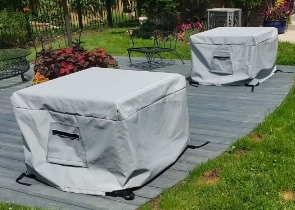 Cushion & Storage Chest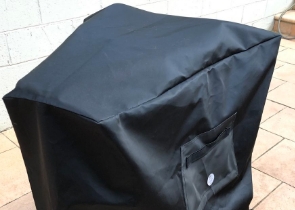 Custom Cover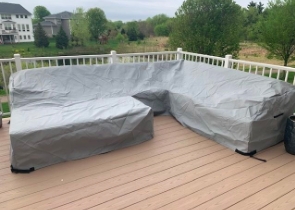 Sectional Covers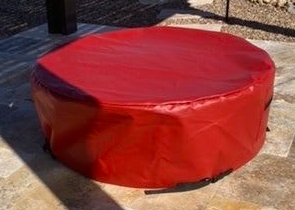 Fire Pit Covers_1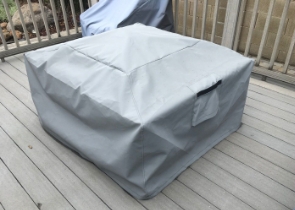 Fire Pit Covers_2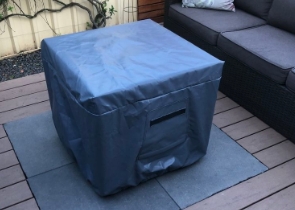 Fire Pit Covers_3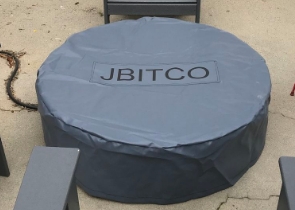 Fire Pit Covers_4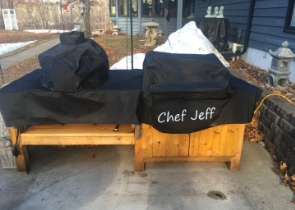 Grill Cover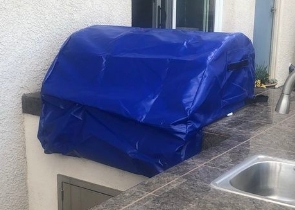 Grill Cover-1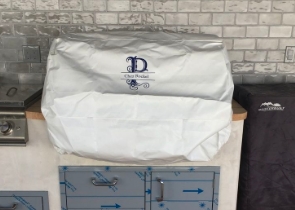 Grill Covers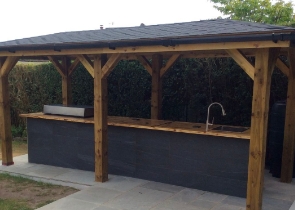 Outdoor Island Kitchen Cover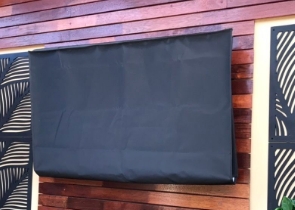 TV Cover
View more Customer Images »
Round Fire Bowl Covers Feature Tough Material that Resists the Elements
These outdoor fire bowl covers can help make storage an easier task. Not only will they guard the bowl against dirt between uses, but they can also provide protection from severe weather conditions. These strong covers allow for optimal protection from UV rays, rain, snow or dirt all year round. They can fit a bowl measuring up to 24" in diameter and 10" high. Multiple covers are available for different climate conditions.
Cover Fab is suitable for areas with full or partial shading. Made with 600 denier melange as well as PVB backing polyester, these waterproof fire bowl covers come in 2 colours. The material is lightweight with a graphic weight of just 12 oz and feels similar to fabric, making installation and removal quick and simple. It can resist water and can help guard against sunlight while also resisting tearing and abrasion. This type of cover features a 3-year warranty.
Cover Max features 1000 denier, polyester fabric and a coating of PVC along with your choice from 6 different colours. This is ideal for moderate weather. The graphic weight is only 12 oz, and the cover can easily protect against the sun's rays as well as moisture. These custom fire bowl covers are resistant to tearing and abrasions and come with a warranty of 5 years.
Made from polyester with a PVC coating, Cover Tuff also features a thickness of 1000 denier comes in 5 colours. The round fire bowl covers weigh a moderate 18 oz and is our strongest material available, making it useful for very severe outdoor conditions. It is 100% resistant to water and UV rays and can also resist bruising and tearing. The material has a feel similar to that of vinyl and comes with a warranty of 7 years.
Multiple Tie-Down Choices for these Outdoor Bowl Covers
Various tie-down choices are available for these waterproof fire bowl covers to provide additional security and a better fit. Choose drawstrings or elastic to add to the hem. The grommets are resistant to rust and are attachable to the bottom for the string to pass through with ease. You can attach push clips or a water-resistant zipper to make installation and removal simple. Choose between a full zipper or a partial one. We offer multiple options for your convenience.
We offer a UV-resistant printing method so you can add a personalised graphic or monogram to your custom fire bowl covers. We can help you alter the colour, font, and style. Add airbags to cover up sunken spots and keep water from pooling. Each of our covers also include vents to circulate air and prevent mould or mildew from building up.
Buy Large Quantities of Round Fire Bowl Covers for a Bulk Discount
If you order 2 or more outdoor fire bowl covers, we can provide a reduced cost. The bigger the order, the greater the discount. You can save more on each additional unit ordered. So do not wait and order now!
Didn't find what you were looking for? Need to find something else? Take a look at our other custom covers here.