So Far We've Covered...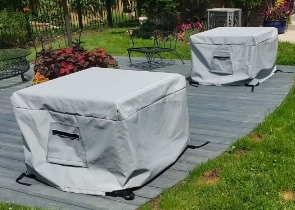 Cushion & Storage Chest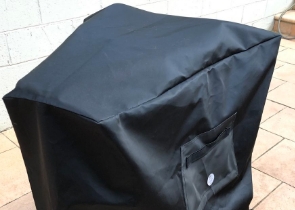 Custom Cover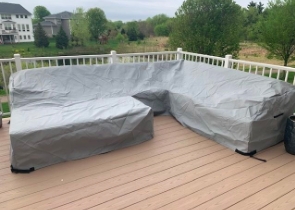 Sectional Covers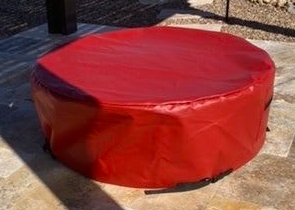 Fire Pit Covers_1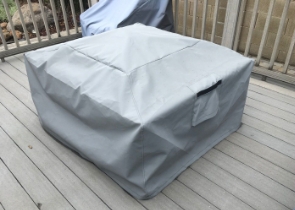 Fire Pit Covers_2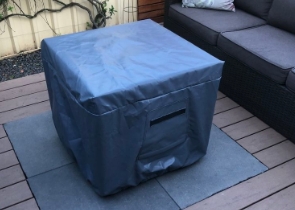 Fire Pit Covers_3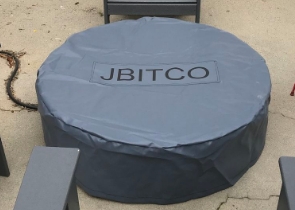 Fire Pit Covers_4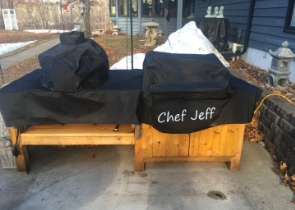 Grill Cover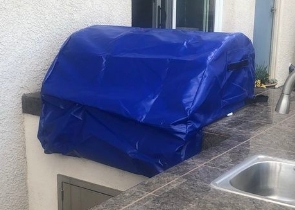 Grill Cover-1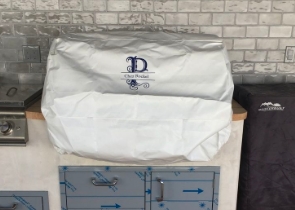 Grill Covers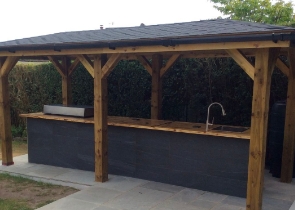 Outdoor Island Kitchen Cover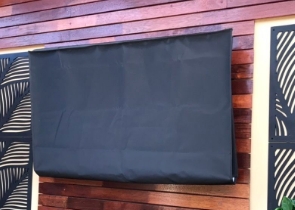 TV Cover
View more Customer Images »
Outdoor Speaker Covers Come in Different Water-Resistant Fabrics 
Who doesn't adore the sound produced by their high-end outdoor speakers? Not only do speakers bring life to a party, they also provide a comforting sound on a quiet afternoon. Outdoor speakers are unquestionably a major investment; as such, safeguarding them from the elements is critical. Our waterproof outdoor speaker covers guard against external environmental conditions eroding your outdoor electronics.
These equipment covers are easy to maintain. We include a pocket for your remote to prevent misplacing it. Furthermore, our equipment covers feature split zippers for convenient access. These zippers keep your covers in place regardless of how windy it is outside. We also provide velcro on the front and mesh flaps on the back of the cover to facilitate closure and opening as needed.
The custom speaker covers are available in three water-resistant fabric alternatives. Cover Max, Cover Fab, and Cover Tuff are the fabrics in this collection. Our Cover Max fabric comprises 1000D PVC coated polyester and provides abrasion and tear resistance to your equipment covers. This fabric is ideal if you live in a region with mild weather. Our Cover Fab fabric features a 600D melange polyester with a PVB backing. This fabric is ideal for speakers placed in a shaded or partially shaded area. It's also mid-weight and has a vinyl-like feel.
Finally, our Cover Tuff fabric resists extreme weather conditions due to its 1000D PVC-coated polyester construction. This fabric offers maximum protection against damage caused by harmful UV rays. It also provides superior abrasion and tear resistance for the outdoor speaker covers. Cover Max and Cover Fab fabrics come with a 3-year warranty, while our Cover Tuff fabric comes with a five-year warranty.
Waterproof Speaker Covers Are Customisable to Any Size Specification
Whether it's a small or large speaker, we have equipment covers for them all. We include a measuring guide with our size customisation table to ensure that you can easily enter your dimensions (in inches).
We also add a 1 in. to 2 in. wiggle room to the specified dimensions to allow for hassle-free pull-in and removal of the portable speaker covers.
Personalise Your Outdoor Speaker Covers
We allow you to customise your waterproof speaker covers by selecting the fabric, colour scheme, and tie-down alternatives. Add any image or text to your cover.
Provide a reference image of your choice to ensure that we fully understand your requirements. We suggest you key in the image in one of our supported image formats so that we understand your specifications. Wait no more, place your order today!
Didn't find what you were looking for? Need to find something else? Take a look at our other custom covers here.